The Thirteenth Floor
(1999)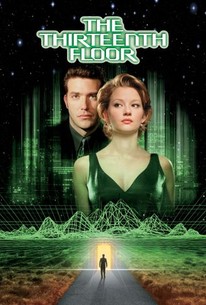 The Thirteenth Floor Photos
Movie Info
Computer scientist Hammnod Fuller has discovered something extremely important. He's about to tell the discovery to his colleague, Douglas Hall, but knowing someone is after him, the old man leaves a letter in his computer generated paralell world that's just like the 30's with seemingly real people with real emotions. Fuller is murdered in our "real" world the same night, and his colleague is suspected. Douglas discovers a bloody shirt in his bathroom and he cannot recall what he was doing the night Fuller was murdered. He logs into the system in order to find the letter, but has to confront the unexpected. The truth is harsher than he could ever imagine.
Critic Reviews for The Thirteenth Floor
Audience Reviews for The Thirteenth Floor
½
I quite enjoyed the complexity of this film. Somewhat like the Matrix in that the question is "what is real?". I had the advantage that I recorded it on my PVR, so I could go back over the parts that were most confusing.
Furthur speculation on the Frankenstein hypothesis, namely: does the thing created to emulate life actually possess a soul? A computer programmer is suspected of murdering his employer, but did he? The only clue is in the new project - untested as of yet, in this piece that borrows style from Blade Runner, Dark City and Tron.
Kevin M. Williams
Super Reviewer
The Thirteenth Floor, what was I thinking when I watched this Movie at first? There is really no point in the Movie. This is weird.
The Thirteenth Floor Quotes
There are no approved quotes yet for this movie.