Peter Pan
(1924)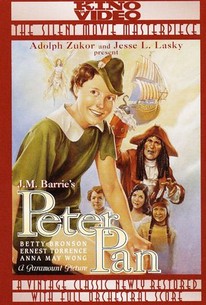 Movie Info
When Paramount bought the rights to the delightful James M. Barrie story, every actress in Hollywood wanted the role of Peter Pan, made famous on the stage by Maude Adams. Mary Pickford, Lillian Gish, and even Gloria Swanson thought they were perfect for the role, but Barrie's own choice was Betty Bronson, a virtual unknown. The story is familiar to nearly everyone. When Mr. and Mrs. Darling (Cyril Chadwick and Esther Ralston) go to a party, they leave their children -- Wendy (Mary Brian), Michael (Philippe de Lacey), and John (Jack Murphy) -- in the care of their dog, Nana. But Peter (Bronson) shows up with the fairy, Tinker Bell (Virginia Brown Faire), and they take the children to Never Never Land. They have a series of adventures with the Lost Boys and defeat Captain Hook (Ernest Torrence) and his band of pirates. Finally, the children return home to Mrs. Darling, who is overjoyed to have them back. She adopts the Lost Boys and offers to take Peter in too, but he refuses to grow up and flies away after promising to visit Wendy every year. An interesting side note -- although she had no involvement in casting Brian as Wendy, Ralston had discovered her a couple of years earlier while judging a beauty contest.
Critic Reviews for Peter Pan
Audience Reviews for Peter Pan
½
Anyone else think it's weird when they have a girl play Peter? And the guy in the dog costume, what was up with that? I know, I know it's a fantasy story, but I thought when they were at home it was supposed to be the real world, maybe I'm wrong. Anyway, this movie will surely entertain young audiences, it's fun and has a nice ending. Overall it's enjoyable, I just felt it could have been a little better.
½
First, let me say that seeing this as it was meant to be seen, with live music accompaniment, was AMAZING! Even with a few DVD glitches, having the live reaction of the organist and percussionist adds so much to the entertainment value. This is probably closest to what you would have seen at an original stage performance because Barrie was somewhat involved in this production. But yet, this film is definitely not just a static recording of a stage play. That Nana, the dog, has some attitude! All the acting is done very well for a silent. I was less than impressed with Captain Hook though as he seemed to fill more of a comedic role than a villian role. And it's a little awkward when, since this is a British story, Hollywood throws some American patriotism in. I don't really understand this since it wasn't even made in a year when one of the world wars was being fought?!
Byron Brubaker
Super Reviewer
Peter Pan Quotes
There are no approved quotes yet for this movie.