Resurrection
(1999)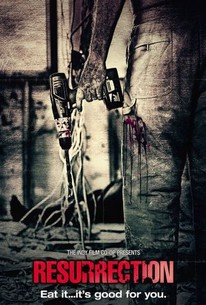 Movie Info
"Resurrection" tells the story of Jesus Christ dying on the cross until 40 days later when he ascends into heaven.
Critic Reviews for Resurrection
All Critics (6) | Fresh (1) | Rotten (5) | DVD (2)
If this sounds like a knockoff of Se7en, that's because it is.
A blatant rip-off of Seven, but pretty scary and unsettling in its own right.
February 9, 2006 | Rating: 7/10
Audience Reviews for Resurrection
The film has a strong visual style and is quite solid in its storytelling. I have watched this a few times over the years and it has found a guilty place in my collection. The detection skills by Lambert are laughable at times, the 1 plus 1 equals 2 moment is laugh out loud. The Seven connections are close and it is a clearly inspired by that better film. The quality of the actors is on the better side but with Lambert leading the show its a ham-fisted thriller that would be nothing without him. The Highlander team created another film worthy of cult status.
Brendan O'Connor
Super Reviewer
Well...3 stars cuz it had some good gore (and I am always a fan of that!). But, the movie on the whole was kind of so so.
Cynthia S.
Super Reviewer
Well made pot boiler that does bear a passing resemblance to Seven except this one's actually entertaining. Although there are a few small plot holes and the killer's identity wasn't surprising it still doesnt take away from the film being an enjoyable and gory thriller.
A.D. Villarreal
Super Reviewer
Resurrection Quotes
There are no approved quotes yet for this movie.