Jack Frost
(1998)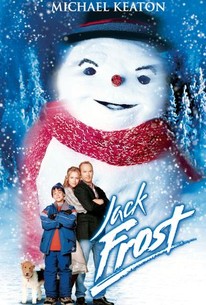 Movie Info
Jack Frost is the tale of a man who's trying to be a father, a husband, a breadwinner, and he's trying to do what he loves to do. Ultimately he realizes that if you don't pay attention to the people dearest in your life -- your family -- you could lose it all. Jack, an often-traveling blues musician, has spent little time with his son- then dies in a car accident and then realizes his mortal life mistake of not being there for his son. Then Jack "came to life one day" as a snowman to repair his lost time.
News & Interviews for Jack Frost
Critic Reviews for Jack Frost
Audience Reviews for Jack Frost
Jack Frost: Why me... why a snowman? I mean, could the universe really be that unoriginal? "He's the worlds coolest dad and he's gonna prove it." Okay so Jack Frost is a sentimental movie that tugs on the heartstrings too much and tries to create emotional tearjerking moments too often. Still, I'll always have an appreciation for the movie, as it was a big part of my childhood. I loved this movie as a kid. Now, I see it for what it is; a movie that appeals to kids and nothing more. Still it has a nostalgia value with me that doesn't go away. I thought I'd watch it again now, at an older age because the movie so heavily criticized and I wanted to see why. I ended up enjoying the film for the most part even now. Sure it's overly sentimental, but it's a fucking kids movie. So fucking what a kids talking and hanging out with a snowman. I hear all these words to describe it, like creepy and weird. Nobody complains about Frosty the fucking snowman. This is a live action fairy tale, so it is what it is. Jack Frost is a busy man. He's the front man for a blues band that is about to get signed and hit the big time. He also has a wife, Gabby, and a son, Charlie. Charlie is constantly being disappointed by his father. Jack doesn't show up for his hockey games because he's in the studio and when Jack promises to go away to a cabin for Christmas, Charlie is excited. A call from an agent telling Jack, the band is going to be signed puts a damper on this though. He has to go play for the label on Christmas. Halfway there he decides his family is more important and turns around. He crashes and dies and a year later, when Charlie plays his dads harmonica after making a snowman; Jack is resurrected in the form of that snowman. While Jack Frost is nowhere near being considered a good movie, it's one that I enjoy even while I cringe at some of the more over the top sentimental and emotional moments.  There's much worse Christmas movies out there. It's a good movie for the kids, but adults who didn't watch it as a kid will more then likely hate it. The reviews speak for themselves.
Melvin White
Super Reviewer
½
I loved Jack Frost as a kid. Now I just see it as satisfactory childrens christmas entertainment. Although uninspired it did however bring a smile to my face despite there being other, better christmas films.
Directors Cat
Super Reviewer
Too sentimental and bad writing. Rotten.
Lucas Martins
Super Reviewer
Jack Frost Quotes
| | |
| --- | --- |
| Jack Frost: | Why me,...why a SNOWMAN? I mean, could the universe really be that unoriginal? |
| Jack Frost: | Why me... why a SNOWMAN? I mean, could the universe really be that unoriginal? |