Il Fantasma dell'Opera (The Phantom of the Opera)
(1998)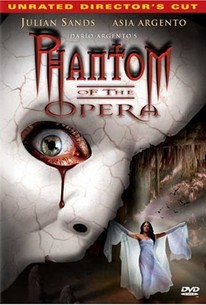 Il Fantasma dell'Opera (The Phantom of the Opera) Photos
Movie Info
In keeping with the his cult reputation, Italian filmmaker Dario Argento's take on Gaston Leroux's enduring Gothic tale of terror and obsession features plenty of sex and graphic, high-tech gore (although hard-core Argento purists may find the splatter scenes rather sparse). Unlike other renditions of the illustrious Phantom, Argento's version suffers no facial disfigurement and therefore remains unmasked. His creepiness, shown in the early parts of the story, comes from having been abandoned as a baby and raised by rats in the labyrinthine catacombs beneath the Paris Opera. Unaccustomed to humankind, the Phantom (Julian Sands) spends his days in the darkness playing an organ, murdering intruders, saving his rodent family members from the theater's exterminator and occasionally wandering about the opera house. His life changes when he falls in love with beautiful young singer Christine (Asia Argento), understudy to temperamental zaftig diva Carlotta (Nadia Rinaldi). Desperate to have her, the Phantom plays a haunting melody and lures her into the bowels of the great theater. There he will begin a macabre courtship destined to end in tragedy. Those who enjoy finding continuity mistakes will be delighted to discover that while the story is set in 1877, the theater is lighted with electricity, something that did not happen in real life until 1888. ~ Sandra Brennan, Rovi
Audience Reviews for Il Fantasma dell'Opera (The Phantom of the Opera)
½
Very much Argento's own vision of the Phantom of the Opera tale... it's bizarre and completely different to any other version of the story. Suffers from poor acting, no atmosphere or sense of terror, but it does have a surprising amount of gore, probably Argento's goriest after Mother of Tears. Strange and odd, but not completely terrible.
This does not even diserve 1 star...this was the MOST REDICULOUS AND HORRIBLY (sp) version on this classic I have EVER SEEN! #1 The phantom is not even disfigured!!!!! unless you count his nasty hair. #2 Christine makes no sense in this movie. yes she is in love with both of them but she dosent even LIKE raoul until the last 5 minutes of the movie and then in the last 2 minutes she screams MY LOVE MY LOVE!!! as they are rowing away from the phantom. AVOID THIS MOVIE WITH YOUR LIFE!!! and #3 the rats???? WTF? Just stay away from this one...forget about it. Forget that you even heard or read anything about this version.
Morgan Salem
Super Reviewer
½
A cool, weird and gorey version of Phantom of the Opera by Dario Argento, the mystery horror maestro from Italy. Contrary to the DVD cover, the Phantom doesn't wear a mask, and is played by the long-haired awesome actor Julian Sands. Dario's daughter Asia Argento plays the Phantom's love Christine. The opera music is brief, and you can tell that Asia is lip-synching to it. The deaths are imaginative and gorey; I wished the bodycount was slightly higher. I like the cool trailer using The Smith's "How Soon Is Now" - too bad they didn't use that tune in the actual movie. Why the love for rats?
Lafe Fredbjornson
Super Reviewer
Il Fantasma dell'Opera (The Phantom of the Opera) Quotes
There are no approved quotes yet for this movie.