Dick
(1999)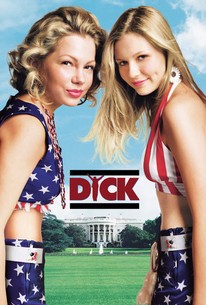 TOMATOMETER
AUDIENCE SCORE
Critic Consensus: A clever, funny slice of alternate history, Dick farcically re-imagines the Watergate era and largely succeeds, thanks to quirky, winning performances from Michelle Williams, Kirsten Dunst and Will Ferrell.
Movie Info
In DICK, an historically-challenged comedy, high school students Betsy Jobs and Arlene Lorenzo wander off during a class trip to the White House and meet President Richard Nixon. They end up becoming the official walkers of his dog, Checkers, and secret advisors to Tricky Dick during the Watergate scandal. Forget what you learned in the history books and prepare to be enlightened on eighteen-and-a-half-minute tape gaps, slush funds, paper shredding and everything else you never knew about the third-rate burglary that turned into a first-rate scandal in the 1970s... the last good White House scandal.
Audience Reviews for Dick
½
Silly movie that only really works because of Kirsten Dunst and Michelle Williams. It's kind of like a 60's set Romy and Michele loosely based on a true story. Fun to watch.
Nicki Marie
Super Reviewer
½
A very enjoyable film. I really loved this film, and I thought it was a very well done political oriented comedy that had plenty of laughs, a good cast and aided by good directing. The cast here are great and the plot for the film is very well done and has a good, compelling story that has good laughs. Dick is a smart comedy that is well directed, and is quite charming as well. I really enjoyed the two lead actresses and they really made this film good. The script is very well written, and the story is flawed, but there are plenty of good moments that add so much to the enjoyment of this film. Director Andrew Fleming directs well and keeps the ball rolling and is able to keep you interested from start to finish. This is an entertaining film with a good cast that are really enjoyable to watch on-screen. This is one of those films that is brilliantly done, and despite the flaws, manages to be entertaining and fun. The cast make it work and the film very enjoyable entertainment. This is a must see film that has some good laughs and with powerful performances, great directing, this is what makes Dick a memorable film to watch. This is a smartly crafted film that delivers the laughs. If you want a good comedy, then you should check this film out. With an effective plot and cast, this is a memorable and fun comedy that has some brains. Give this one a shot because you may be surprised at how good it is. Lots of fun from start to finish, Dick is a fine political comedy.
½
Saturday Night Live and Kids In The Hall alumni star in this purposely schlocky comedy of errors about the Watergate break-in and the eventual demise of the Nixon White House. More cute than actually funny, but nicely cute.
Kevin M. Williams
Super Reviewer