William Shakespeare's 'A Midsummer Night's Dream'
(1999)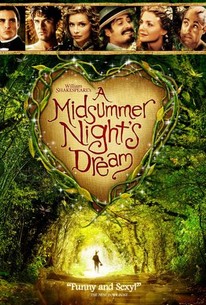 William Shakespeare's 'A Midsummer Night's Dream' Photos
Movie Info
It all begins when Hermia and Lysander flee deep into the forest to escape Hermia's father, Egeus, who wishes Hermia to marry Demetrius. Demetrius himself bicycles into the woods to follow his true love Hermia. Demetrius is soon followed by yet another desperate lover: Helena, who adores Demetrius but finds her affections dreadfully unrequited. Crashing and flailing, and falling into mud puddles, the foursome find themselves near the secret home of the fairies, where water nymphs and satyrs party into the night at the fairy bars and cafes. Chaos ensues when the trickster Puck (Stanley Tucci) administers a secret love potion-causing the lovers to mix-and-match with outrageous results. Meanwhile, a band of actors come to the same woods to put on a play-a play that is interrupted when its star actor Bottom becomes a strange pawn in the love battles between Oberon, King of the Fairies, and Titania his Queen.
Critic Reviews for William Shakespeare's 'A Midsummer Night's Dream'
Audience Reviews for William Shakespeare's 'A Midsummer Night's Dream'
Not highbrow -- just weird.
Christian C
Super Reviewer
As a rule, I dont like to watch any William Shakespeare adaptations until I have read the play first. Having just finished reading this classic comedy/love story, I was eager to see it on screen like I am of any of the screen adaptations of his wonderful works. This however, isn't as good as the great master deserves. While preparing for the wedding of Duke Theseus (David Strathairn) to Hippolyta (Sophie Marceau) a group of actors including Bottom the Weaver (Kevin Kline) rehearse an amature play for the forthcoming betrothal while forbidden lovers Hermia (Anna Friel) and Lysander (Dominic West) run away together, pursued by Demetrius (Christian Bale) and Helena (Calista Flockhart). Meanwhile, in another part of the forest, Faerie King Oberon (Rupert Everett) wants to get at his wife Queen Titania (Michelle Pfeiffer). He dispatches malicious 'sprite' Puck (Stanley Tucci) on a mission to humiliate his Queen. En route Puck can't resist messing with the mortals lost in the woods also, ensuring all sorts of confusion. Director Michael Hoffman's take transports us from ancient Greece to late-19th-century Italy (complete with newly invented bicycles) and I have to say, it works. The sets and costumes are absolutely stunning, drawing you into the magical and mystical land of the faeries. He addresses it with the same playful tone that Kenneth Branagh captured for his adaptation of "Much Ado About Nothing" and also like that, uses the same mix of both American and British actors who are perfectly suited to their roles. It's a lush and extravagant production, infused with Shakespeare's humour but something doesn't quite click. The mock Pyramus play at end is way overlong and almost grinds the film to halt. The only positive is that this is when the underused Sam Rockwell gets a chance to contribute something, but by then it's too little too late. As David Strathairn's 'Theseus' says around this time "No epilogue I pray you..." if only he'd said this 15 mins earlier, we could have had a satisfying ending. It's classic Shakespeare that, shockingly, hasn't had a decent adaptation yet. This is the best so far, but for fans of the great playwrite only. It captures the look but doesn't quite capture the heart.
Mark Walker
Super Reviewer
½
A great take on a Shakespeare classic. Full review later.
Thomas Bowler
Super Reviewer
William Shakespeare's 'A Midsummer Night's Dream' Quotes
There are no approved quotes yet for this movie.