Animal Farm
(1999)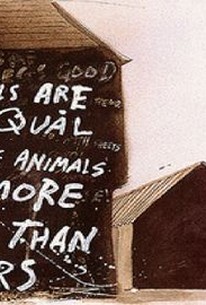 Movie Info
George Orwell's political fable about corruption and betrayal in post-revolutionary Russia gets a new look in this version that employs a cast of real animals alongside digitally manipulated critters and lifelike beasts crafted by Jim Henson's Creature Shop. At the Manor Farm, the alcoholic master Mr. Jones (Pete Postlethwaite) is cruel to his animals and has horribly mismanaged the property. One night, the wise but elderly pig Old Major (voice of Peter Ustinov) gathers the animals and speaks of a remarkable dream, in which the animals throw off their tyrannical human masters and learn to reap the fruits of their own labors. After Old Major's death, two other pigs, Snowball (voice of Kelsey Grammer) and Napoleon (voice of Patrick Stewart) lead a revolution that drives Jones from his land and leaves the animals in charge of their own destiny. After their revolt, Snowball and Napoleon rule side by side, but Napoleon soon becomes drunk with power and squeezes Snowball out of authority, eventually turning the other animals against him. With Boxer (voice of Paul Scofield), a simple-minded but loyal and physically powerful horse, as a role model, Napoleon leads the animals on a campaign of self-denial and hard work that will bring them security and freedom; however, it soon becomes obvious that Napoleon is growing fat while the other animals are starving, and he is quickly becoming the sort of creature he once waged war against. Animal Farm received its American premiere on the TNT cable TV network in October 1999; it opened as a theatrical release in several other countries shortly afterward.
Critic Reviews for Animal Farm
Audience Reviews for Animal Farm
Based on George Orwell's classic novel, Animal Farm is a powerful allegory about political corruption and class warfare. Fed up with the abuses of their human masters, the animals on Mayor farm stage a revolution and take control, but once in power the pigs set themselves up as a ruling class and make the other animals subservient. Featuring the voice talents of Kelsey Grammer, Ian Holm, Julia Louis-Dreyfus, and Patrick Stewart, the film has quite an impressive cast. Additionally, Jim Henson's Creature Shop does some extraordinary work with the animal puppets. On the other hand, the CGi is rather hit and miss (especially the mouth moments). Yet despite whatever problems it has, Animal Farm is faithful to Orwell's original work and retains its ever relevant message about power corrupting.
Dann Michalski
Super Reviewer
The production work is great, but it misses the point of the book and completely screws up the ending.
Marcus Woolcott
Super Reviewer
Animal Farm keeps and adds the same lesson about revolution that Greg Orwell had in mind, but it still was a very disturbing and creepy film that will haunt the lives of anyone whoever grew up watching Babe or Charlottes Web. This movie simply just has nothing going fr it, it has a lot of great voice actors and wastes the talent and the story does not capture the essence of the book at all. I dont know if its possible to make a live action film on Animal Farm but it sure was not this. It was a creepy mess that I hope few people have to endure in their lives.
Bradley Wright
Super Reviewer
Animal Farm Quotes
| | |
| --- | --- |
| Old Major: | And when our usefulness has come to an end, we are slaughtered with hideous cruelty! |
| | |
| --- | --- |
| Old Major: | Remove man and the root cause of hunger and over-work is abolished forever! Remove man and the produce of our labour shall be our own. Remove man and overnight, we will become free and equal! |