Annie
(1999)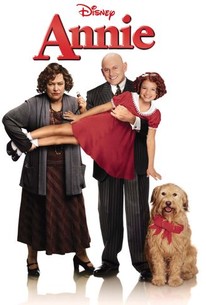 AUDIENCE SCORE
Critic Consensus: No consensus yet.
Movie Info
This made-for-TV adaptation of the hit Broadway musical (which was, in turn, based on the popular comic strip by Harold Gray) stars Alicia Morton as Annie, who lives in an orphanage run by the ill-tempered Miss Hannigan (Kathy Bates). Like the rest of the children, Annie doesn't like the orphanage and hates Miss Hannigan, so she's excited when famous and eccentric billionaire Daddy Warbucks (Victor Garber) picks Annie as the lucky orphan who gets to spend Christmas at his mansion. Warbucks is charmed by Annie's spunk and good spirits and is eager to adopt her, but Annie is convinced that one day her real parents will come back to claim her. Eager to make her happy, Warbucks offers a sizable cash reward to whomever can find Annie's mother and father; Miss Hannigan, seeing the possibility of an easy payday, concocts a scheme by which her brother Rooster (Alan Cumming) and his floozy girlfriend Lily (Kristin Chenoweth) will pose as Annie's long-lost folks. Andrea McArdle, who originated the role of Annie on Broadway, has a supporting role as the Star-to-Be. The musical was previously filmed in 1982, with John Huston in the director's chair.
Critic Reviews for Annie
All Critics (3) | Top Critics (1) | Fresh (2) | Rotten (1)
The best that can be said is that, minus commercials, it's only an hour and a half.
It's tough to ruin tunes like 'You're Never Fully Dressed Without A Smile,' 'I Think I'm Gonna Like It Here' and 'It's A Hard-Knock Life.' Under Marshall's direction, they become the showstoppers they should be.
Audience Reviews for Annie
A childhood favourite and a classic!
Bethany Murphy
Super Reviewer
½
not as good as the 1981 version of this film.
erika bruhns
Super Reviewer
½
This is a good TV remake. It's well acted, funny, but we prefer the 1981 film version. This one dosen't have the songs "Dumb Dog" and "We Got Annie" and the character, Punjab, is written out of the story. But still this is very entertaining and worth watching. We still own our VHS recording of the night it premered. We even got the commercials. Hahaha. We get slapped with 90's memories everytime we watch that tape. Awww, memories. ♫NYC, just got here this morning. Three bucks, two bags, ONE ME!♫
Bentley Lyles
Super Reviewer
Annie Quotes
There are no approved quotes yet for this movie.