In Too Deep
(1999)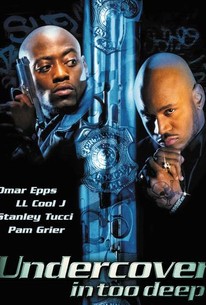 Movie Info
In this crime thriller, L.L. Cool J is a underworld boss so powerful that his nickname is "God." He has his fingers in 80% of the drug traffic in Cincinnati, has won over nearly every adversary through bribery or intimidation, and seems practically untouchable. New police detective Jeffrey Cole (Omar Epps), convinced that he's the man who can bring down "God" and his empire, assumes a criminal identity that allows him to infiltrate "God"'s organization. However, the longer Cole remains inside the underworld, the more he finds himself caught up in it, and getting out of "God"'s empire becomes more difficult than getting in. The supporting cast includes Stanley Tucci as Cole's superior, Nia Long as Cole's girlfriend , and Pam Grier as an undercover detective, as well as hip-hop artists Nas and Mya.
News & Interviews for In Too Deep
Critic Reviews for In Too Deep
Audience Reviews for In Too Deep
½
Action is a genre that is known for being way out there in terms of realism, with ridiculous special effects, shotty dialouge, and bad acting. Seldom is an action movie really focused on the story, instead it's always about the man who can do the impossible. In Too Deep was different though because it was based on a true story and there really weren't any expensive special effects. In this film, Omar Epps plays a rookie, undercover cop, whose first small assignment actually leads him into the number one crime syndicate in all of Cincinnati. The inexperienced cop uses his urban upbringing and street smarts to get him to the top, where he really has to decide which side he wants to be on. In Too Deep featured a great, real life story, that was on the level, I really enjoyed this film. On top of that Epps and LL Cool J were terrific opposing each other and giving strong performances. What I didn't care for was the blatant racism from Director Michael Rymer. Everything was very well done, but it is very obvious that the Writer/Director of this film was white, while the majority of the cast was black. What I witnessed was a film where all the people in charge were white, all the thugs were black, but it didn't end there. The white people spoke eloquently, while even the black officers and other non-affiliated cast members all spoke street. Every person from the rookie cops aging father to the man who ran the convenience store were dropping F bombs left and right, adding man to every other word, and constantly saying the N word. I understand the point of this movie was to be real, but part of that realism was that this gang had never been infiltrated because of how smart they were. Instead of being portrayed as smooth and savvy, the leaders of the gang were portrayed as ignorant thugs and that really takes away from the film.
Todd Smith
Super Reviewer
Because this movie takes place in Cinncinnatti and I am from Ohio and about to finish up my degree in Criminal Justice I could be a little bias in this review... But in my opinion it was a five star movie. Omar Epps does an amazing job at his emotionally conflicted role as an under-cover cop and LL Cool J Surprisenly pulls off an amazing performance as "God" a major drug lord pushing an 11million dollar crack trade. Inspired by a true story, this movie captures the emotions of those who must of been conflicted in the real life event, as well as captures what people involved in drug trade, good evil or bystander, see's and goes through on a day-to-day base. What is even better about this film is it's not your typical crime movie. It's more so about the life of an under-cover cop and the struggles to keep there personal life and there undercover persona seperated. Sometimes when a man is undercover so long it's easy to lose your way and believe that you are the personality you play on the street, and Omar Epps, captures that perfectly. I apersonally was also especially refreashed by the fact that this took place in Ohio, a different scene than the same old "New York, LA, Miami" that we have seen in at least a thousand movies now. It's a great new setting, for an unpredictable, action packed, and emotional criminal drama. It passes in all areas!
Bobby Hobbs
Super Reviewer
decent flick but not as good as many under cover movies
In Too Deep Quotes
| | |
| --- | --- |
| Lookout: | What's up man. You po-po? |
| Jeff Cole/J. Reid: | I ain't po-po. |
| Lookout: | You sure smell like you po-po. |