Double Jeopardy
(1999)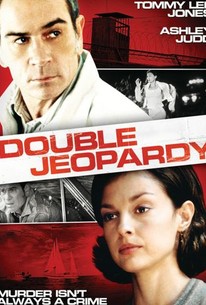 Movie Info
A woman, who has served six years of a prison sentence for killing her husband (after he faked his own death and framed her in an insurance scam), sets out to take in the money of the scam. Tommy Lee Jones plays the downtrodden parole officer who has to track her down.
News & Interviews for Double Jeopardy
Critic Reviews for Double Jeopardy
Audience Reviews for Double Jeopardy
Quite an overused idea, the beginning seemed to take quite a while but then the main part (especially her jailing) didn't take very long at all and left me confused about the time span of the film. Acting was decent but nothing special and overall a very obvious film with no guessing to be done.
Sophie Burgess
Super Reviewer
This movie is a thriller about a woman convicted (wrongly) of murdering her husband. She gets a lengthy prisons sentence but gets out early on good behavior. When she discovers that not only was she (correctly) set up, but that the person who did it was her husband, she sets out for revenge, planning to exploit the double jeopardy loop hole which says a person cannot be convicted for the same crime twice. Double jeopardy is a real thing, but the film plays fast and loose with it, and the way it is demonstrated here isn't actually how it works. That aside, this is a very entertaining film, despite being kinda silly and on the nose. The motivations for various things (aside from the revenge) aren't really well constructed, and the writing just feels kinda 'bare minimum', but the performances are passable, and the audience does feel satisfaction in seeing Ashley Judd's Libby run around on her quest for revenge. This film comes off to me as the cinematic equivalent of an airport novel. I mean that as mostly a compliment, even if I don't completely recommend the film as something worth watching very often. Had this been better scripted, and maybe had a bit tighter direction, then it might hold up as more than rainy day popcorn fare.
Chris Weber
Super Reviewer
½
Whilst I do not find Ashley Judd one othe more convincing Actresses, this is a film that holds yours attention and urges the need for retribution to take place. Cheesy in parts, but helped along by Tommy Lee Jones, this is an enjoyable film of the 90's.
Lady D'arbanville
Super Reviewer
Double Jeopardy Quotes
| | |
| --- | --- |
| Travis Lehman: | We spotted the Parsons woman in the Quarter last night. She got away. I just came by to find out if you'd heard from her. |
| Nick Parsons: | Not a peep |
| Nick Parsons: | Not a peep. |
| Travis Lehman: | Do you have any idea why she's fixated her lunacy on you? |
| Nick Parsons: | Well, the world's full of crazy people, am I right? |
| Travis Lehman: | Oh, yes, you are right. Truer words were never spoken. Those are nice pictures there. Did your kids do them? |
| Travis Lehman: | Oh, yes, you are right. Truer words were never spoken. Those are nice pictures there. Did your kids do them? |