The End of the Affair
(1999)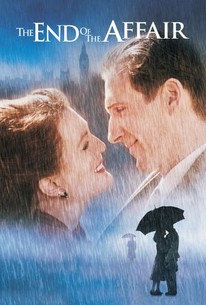 The End of the Affair Videos
The End of the Affair Photos
Movie Info
On a rainy London night in 1946, novelist Maurice Bendrix has a chance meeting with Henry Miles, husband of his ex-mistress Sarah, who abruptly ended their affair two years before. Bendrix's obsession with Sarah is rekindled; he succumbs to his own jealousy and arranges to have her followed. As the investigation progresses, we learn the reason for their separation. During a bombing raid, Sarah struck a bargain with God to sacrifice their relationship-in exchange for Bendrix's life. When Bendrix reappears in her life, Sarah realizes that her promise to God has become impossible for her to keep. She is placed in a spiritual dilemma as she struggles with her continuing love for her former lover in the face of the realization that she is fatally ill.
Critic Reviews for The End of the Affair
Audience Reviews for The End of the Affair
½
Based on a novel by Graham Greene, this is a romantic drama set during World War II that is in many ways a standard love triangle involving a guy, his best friend, and the best friend's wife. There's lies, deception, and a torrid affair. Some of this is compelling, but overall the basic plot isn't all that unique or interesting, and this isn't the best variation on a theme. However, the period details, costumes, sets, etc are well done, and the acting is what ultimately makes this a good film worth watching. Stephen Rea is good as the nervous, henecked husband, Ralph Fiennes is great as the stuffy 40s intellectual madly in love with his friend's wife, and Julianne Moore is sublime as the wife, giving a very nuanced performance. It's also a plus that this is one of several films where she shows her willingness to do love scenes and show the goods, especially a memorabele scene where bombs literally go off during the heat of the moment. All in all, this is a fine enough period drama, even if it's not the most compelling or memorable. Neil jordan knows how to stage these things, and the acting is ultiamtely what makes it worth a recommendation.
Chris Weber
Super Reviewer
½
Or as I like to call this movie; GROPE. lol I absolutely adore RALPH FIENNES. But i just didnt really find myself enjoying this movie that much.. Julianne Moores character seems almost too self-pitying and whinny as some points. In this movie I actually thought that the actor that stood out the most for me was Stephen Rea. He was quite good. Never bitter or hating as you would expect a man in his position would be. Very well acted. All in all i dont really think I would watch this movie again, not even for Ralph. Near the end when we find out WHY Moores Character broke of the relationship, i just thought it was rediculous!! Very unbelieveable...
Morgan Salem
Super Reviewer
Good period detail but dull
The End of the Affair Quotes
There are no approved quotes yet for this movie.