Miss Julie
(1999)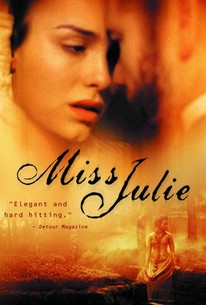 Movie Info
It is a midsummer's eve and the old Old Count departs his estate to celebrate elsewhere. He leaves his beautiful daughter Julie, the last in the long line of his noble family. Miss Julie is despondent after the breaking off of her engagement to be married. She dances and drinks with the servants who certainly do not accept her as one of their own. A little drunk, she finds herself alone in the kitchen with Jean, her father's foorman. Jean is a strange man--handsome and anarchistic, resentful of the class system but greedy to rise to the top. For many years, he has watched and desired the young Miss Julie. They carry on drinking and become involved in an intense and revealing conversation which draws them together as the night goes on. By this late hour Miss Julie has begun to show signs of her deep depression and sometimes unbalanced state of mind. Jean sees her weaknesses and exploits them, humiliating her and pushing her towards the self-destruction that she has been hinting at all evening.
Critic Reviews for Miss Julie
Audience Reviews for Miss Julie
½
A brutal look at the inequalities between men and women and between members of the upper and lower classes. The two main characters, Miss Julie (Saffron Burrows), the aristocratic daughter of the manor, and her father's footman, Jean (Peter Mullan), seem bent on daring the other to cross those lines that separate them normally and venture into forbidden territory. The acting is superb and the cinematographer uses extreme close-ups to good effect, but the production suffers from an intermittently inaudible sound track, making the dialog often difficult to decipher. Is it love, hate, or just unbridled lust that drives these two to play at their game? Unfortunately, the ending seemed jarring given the strength of the passions evoked and that spoiled an otherwise fine effort for this viewer.
Mark Abell
Super Reviewer
½
Mike Figgis' stage play translated artistically to the screen. It's a nicely lit historical manor; most of the action is in the kitchen, where the grown daughter of the house Miss Julie (Saffron Burrows) has a steamy kitchen affair with John, the footman of the estate (Peter Mullen). It's engaging drama and tragedy. I like the look of the whole piece. Things don't turn out so well because of the class distinctions of the lovers. It has some striking scenes, like the servants playful mocking of the affair. I hated the ending they showed us, it was somewhat unexpected, but everything built up to it.
Lafe Fredbjornson
Super Reviewer
Miss Julie Quotes
There are no approved quotes yet for this movie.