House on Haunted Hill
(1999)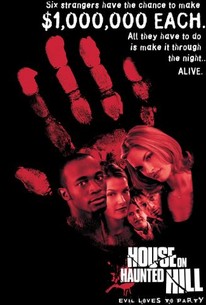 House on Haunted Hill Photos
Movie Info
In this remake of William Castle's campy 1958 classic, an eccentric millionaire named Steven Price invites a diverse group of people to a reputedly haunted mansion that was formerly the site of an insane asylum. Steven offers his guests $1,000,000 each if they can spend the entire night at the old house without fleeing in terror. It sounds simple enough, but when those stories about ghosts haunting the mansion turn out to be true, the guests may no longer opt to stick around. In this version, Steven is played by Geoffrey Rush, and his guests include Jeffrey Combs, Taye Diggs, Peter Gallagher, Chris Kattan, and Bridgette Wilson; Famke Janssen plays Evelyn Price. Sadly, this remake does not feature the original's memorable special-effects gimmick, "Emergo," an inflatable plastic skeleton that rolled on wires through the theater during showings.
Critic Reviews for House on Haunted Hill
Audience Reviews for House on Haunted Hill
½
The House on Haunted Hill remake is a decent remake of a classic film. The film has a decent enough cast and director William Malone crafts a chilling, gory ride with this remake. The remake is not bad for what it is, and I've seen worse. For a horror remake, it's quite decent and entertaining. The film isn't as bad as other remakes, but it lacks the power of the original of course. The film relies on the gore factor, and that's really the standout of the film. The film really doesn't offer anything that great, but is pretty gory. S, if you love gory horror films, then this film is for you. The cast are decent at best, with some questionable castings decisions such as Chris Kattan. This isn't an awful remake, but it's nowhere near the original. I very much enjoyed the original However; this is pretty decent, considering the amount of bad horror remakes that came in the years following this films release. The film like I said offers plenty of gore and will appeal to gore fans. However, in terms of good scares, like the original offered, this remake is fairly weak in offering good, effective scares. There are some tense moments here and there, but never anything really scary. This is a mildly entertaining film that offers a decent viewing experience for horror fans. However in the end, this is a forgettable horror film, and is a remake that like so many others doesn't live up to the original.
½
I just remember that this movie wasn't good. That's all.
Eric Alvarez
Super Reviewer
One of those horror remakes where computer technology is subsituted for scare factor and one spends the length of the project thinking about how you would have done it better.
Kevin M. Williams
Super Reviewer
House on Haunted Hill Quotes
There are no approved quotes yet for this movie.