Onegin
(1999)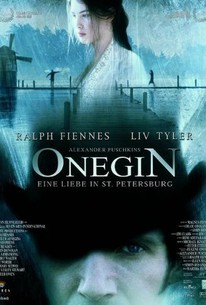 Movie Info
In 1820s St. Petersburg, artistocrat Eugene Onegin inherits a large estate in the countryside. There he meets his neighbor Lensky and Lensky's fiancee Olga. When Onegin first sees Olga's older sister, Tatyana, he is somewhat interested but coldly rejects her heart felt love letter. Lensky, misinterpreting the situation, thinks Onegin has designs on his fiancee and challenges his friend to a duel. Onegin ends up killing Lensky, and leaves the countryside for six years. When Onegin finally returns he encounters a newly mannered Tatyana, now in a marriage of convenience. Onegin falls in love with Tatyana, and ardently pursues her, with devastating consequences.
Critic Reviews for Onegin
Audience Reviews for Onegin
When I think back to much of the movie I suppose it was kind of boring, but truthfully I really enjoyed watching this movie, it was just a very relaxing movie wich was nice sense I was watching it at 3 in the morning. Yet it didnt put me to sleep. A semi-interesting plot wich is really help up by the act, that at times can be cheesey but good. Ralph Fiennes is spectacular as always. If I could listen to any voice for the rest of my life it would be his. He is a complete gentleman! and HIs sexy smoldering eyes are only enhanced by his off redish colored hair. Ah I just love everything about him. Liv Tyler wasnt bad. All she did in this movie was pout and be sad but it worked. The costumes were fantasic I looved all the fur accets. See how they are in russia is deffinetly is a givven but it was used so well and not over the top. The cinematography is also quite good when it comes into play. If youre look for a movie to suggle up on the couch and just chill to, and you love ralph fiennes this is it. But if your not a huge Fiennes fan like me I guess the movie is really noting special, but i enjoyed it.
Morgan Salem
Super Reviewer
½
Onegin was a charming and dramatic romance. It contained all of the elements of a great film. The acting was good. I could have only desire an extension of the romantic relationship with Onegin and Tatiana. There were very dramatic moments in the movie. The snow scenes were beautiful and I recommend this movie for those romantics at heart.
Daisy Maduro
Super Reviewer
It was boring, had me snoring, te de doo da. Extravagant in detail but thin in just about everything else. Woman loves man, man leaves, man comes back, loves woman, they don't get together. More about one womans pride and refusal to cheat on her husband if anything. It is bland and contains no substance. The emotions it deals with are the most interesting aspects but everything looks so dreary. A duel half way through was magnificently filmed and really captured the tension of the moment, as well as being beautifully shot. Fiennes' reaction was brilliant and thoughtful, as is a lot of the acting in this film. It's just a shame that the film is as interesting as putting on a coat, and not a nice shiny coat with lights, just a normal brown coat. Doesn't even have a hole in it with an interesting story behind it.
Luke Baldock
Super Reviewer
Onegin Quotes
There are no approved quotes yet for this movie.