High Fidelity
(2000)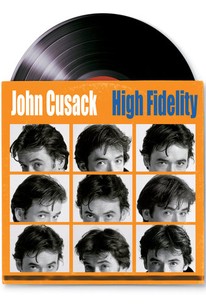 TOMATOMETER
AUDIENCE SCORE
Critic Consensus: The deft hand of director Stephen Frears and strong performances by the ensemble cast combine to tell an entertaining story with a rock-solid soundtrack.
Movie Info
In a biting romantic comedy, Rob Gordon is the owner of a semi-failing record store in Chicago, where he sells music the old-fashioned way -- on vinyl. He's a self-professed music junkie who spends his days at Championship Vinyl with his two employees, Dick and Barry. Although they have an encyclopedic knowledge of pop music and are consumed with the music scene, it's of no help to Rob, whose needle skips the love groove when his long-time girlfriend, Laura, walks out on him. As he examines his failed attempts at romance and happiness, the process finds him being dragged, kicking and screaming, into adulthood.
Critic Reviews for High Fidelity
Audience Reviews for High Fidelity
Made back when John Cusack cared, this is one bravura performance, characterisation, of modern culture blues, where everything is rated like the songs on American Bandstand. With loads of choice music picks, this unwittingly is perhaps the best sendoff the last century could warrant. Jack Black's usual annoying even has a place here.
Kevin M. Williams
Super Reviewer
Although there have been valiant efforts in recent films like Love & Mercy or Hot Tub Time Machine, John Cusack has recently been known to be an actor who will take any role. Starring in films like The Raven or direct-to-video films like Dragon Blade hasn't been helping him make a name for himself for the younger audiences of today. Sadly, I think his box office draw (which wasn't insane to begin with) has come to an end. I do appreciate some of his efforts lately, but his career took a dive pretty quick after starring in Roland Emmerich's 2012. His most remarkable efforts are in films of the past, like Say Anything... or Grosse Point Blank, but I am not here to speak about any of those. Back in the year 2000, a little film called High Fidelity was released, earning Cusack a Golden Globe nomination. Although it was highly acclaimed at the time, it's not talked about enough as time goes on. Here is why High Fidelity remains to be one of my favourite films. Following Rob (Cusack), the owner of a record store, we learn about his top five past failed relationships as the character speaks directly to the audience throughout most of the film. Audiences have seen films about break-ups on countless occasions, streamlined love stories about a man and a women too many times to keep track of, and an ensemble of friends just talking about life and being themselves in multiple indie films, but hardly ever do all of these elements mesh together at once. High Fidelity is a fantastic mixture of all of those things and more. The story about a man who has received and lost love and may not ever find someone to truly be with for the rest of his life is kind of depressing, but his personality sells it in a very fun way. Everything about this film is done for hardcore film fans and music lovers. To quote film reviewer Patuquitos from IMDB.com, "now this is what I call a musical." While I don't necessarily agree with that statement, I can see where they are coming from. The quirky or deep conversations that occur when speaking of the music that is present throughout the film can be quite intriguing. Not only are the people speaking about the music interesting, but the insight provided about certain things in the music is absolutely perfect for the subject matter of this film. This film is the prime example of writers writing about what they know best. Adapted from Nick Hornby's novel by D.V. DeVincentis, Steve Pink, John Cusack, and Scott Rosenberg, High Fidelity is a music lovers dream film. When this film begins, it seems as though it's just going to be about a man babbling on about the women he has lost and will never be able to connect with again. Pleasantly surprising me, the film goes through this portion within the first 20-30 minutes, leaving the rest for further exploration of the character, making this pretty much a perfect film in my opinion. Although the fourth wall is broken on countless occasions here, they are used sparingly enough that it doesn't detract from the film. The fourth wall becomes a character within itself and when a film can pull that off, I have nothing to do but applaud it. In the end, after almost 17 years of release, High Fidelity has gotten better with time in my opinion and more people should be revisiting it. It's the type of film that can't be remade, due to its central focus, so this may end up being a true classic down the road. With a story that keeps you engaged throughout the entire run time, a central character that most people can relate to in some way, a soundtrack that will have you tapping your feet, and a brutally honest screenplay that pulled me in so much that I forgot I was watching a movie at times, High Fidelity is easily one of my favourite films. If you haven't see this film, I highly, highly recommend checking it out, especially if you are fan of dialogue-driven films.
Daniel J DeMersseman
Super Reviewer
High Fidelity Quotes
| | |
| --- | --- |
| Laura: | In fact, I hope we're not in love anymore, to be honest. It would give me a better opinion of love right now. |
| Rob Gordon: | Come on! What, did I beat you? Did I tell you you were a bad person? I mean, what the fuck? What shoul I have done to make you happy? |
| Rob Gordon: | Come on! What, did I beat you? Did I tell you you were a bad person? I mean, what the fuck? What should I have done to make you happy? |
| Laura: | Nothing. Make yourself happy. |
| Rob Gordon: | Oh, I see. Um, wh-why am I not happy? |
| Laura: | Because you're the same person you used to be.. and I'm not. |