Slaves of Hollywood
(1999)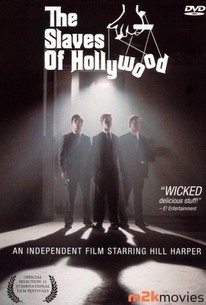 AUDIENCE SCORE
Critic Consensus: No consensus yet.
Movie Info
A determined band of show-business bottom feeders struggle to rise through the food chain in this satiric comedy. Paulette Gittleman (Katherine Morgan) is an aspiring documentary filmmaker whose father (Nicholas Worth) is a top executive at a major film studio. Paulette, who doesn't get along especially well with her father, has decided to give the hand that feeds her a strong bit by making a film about the hapless souls who struggle along the lowest rungs of the entertainment industry, taking all manner of abuse in the hope that they'll some day rise to a position in which they'll get to do what they want. Paulette's subjects include Fisher (Hill Harper), personal assistant to a sleazy music video producer; Thomas (Howard Scott), who sorts mail and dodges abuse at a major talent agency; Dean (Andre Barron), an out-of-work filmmaker who thinks the ghost of Alfred Hitchcock speaks to him; George (Elliot Markman), another mailroom worker whose boss is literally in league with the devil; and Roman (Rob Hyland), who appears to have already learned the lesson that the sleaziest tend to survive best in Hollywood. Slaves of Hollywood was the first feature film from writing and directing team Terry Keefe and Michael Z. Wechsler.
Critic Reviews for Slaves of Hollywood
All Critics (6) | Top Critics (1) | Fresh (3) | Rotten (3)
As astute, insightful and ticklishly truthful a Tinseltown tale as Billy Wilder's Sunset Boulevard and Christopher Guest's The Big Picture. Mandatory -- and funny! -- viewing for any and all who dare enter the Biz.
July 25, 2011
The group of slaves to the Hollywood grind whose story we follow veer from the pathetic to the pompous, have no chemistry, and seem to have been instructed to overact as much as possible.
December 11, 2003 | Rating: 0/5
Audience Reviews
There are no featured reviews for Slaves of Hollywood at this time.
Slaves of Hollywood Quotes
There are no approved quotes yet for this movie.