Committed
(2000)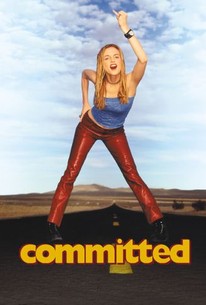 TOMATOMETER
AUDIENCE SCORE
Critic Consensus: Critics say Committed is one of those films that shows promise -- some sort of vision -- of what the movie could have been. The key word is "could." As it is, the script is predictable, the story becomes tedious, and it's simply not funny. Heather Graham shows she can play a central character, but she's not enough to make Committed successful.
Movie Info
Heather Graham stars in this indie exploration of love and marital commitment directed by Lisa Krueger. A hardcore believer in the sanctity of marriage, plucky Joline (Graham) is stunned when her husband Carl (Luke Wilson) abruptly dumps her, leaving only a vaguely-worded note to explain himself. Undaunted, Joline leaves New York to look for her man and discovers him in the wild west of El Paso, Texas, after meeting a bevy of ne'er-do-wells and weirdos along the way. She discovers that Carl is shacked up with a beautiful Hispanic woman named Carmen (Patricia Velasquez). Meanwhile, Joline's flirtatious brother Jay (Casey Affleck) shows up from the Big Apple to look after his sister. Later, two men enter Joline's life. One is Neil (Goran Visnjic), Carl's hunky, beguiling neighbor, who increasingly becomes the object of Joline's affection, and Grampy (Alfonso Arau), an aging Mexican medicine man who becomes Joline's spiritual guide. This film was screened at the 2000 Sundance Film Festival.
Critic Reviews for Committed
Audience Reviews for Committed
The lighthearted romantic comedy Committed has Heather Graham going for it, but that's about all. Graham is incredibly charming and lights up the screen in every scene. The script however, is garbage: a devoted wife goes in search of her missing husband who's left her to work through a mid-life crisis. Though it acts like it's saying something profound about faith and relationships, it actually doesn't. Co-starring Luke Wilson, Casey Affleck, and Clea DuVall, the cast isn't all that bad; it's just that the characters are poorly written. A disappointing film that's all over the place, Committed is a confusing mess that doesn't payoff.
Dann Michalski
Super Reviewer
½
This is a simple, good little film that did not go over well in theatres, but was a hit at the Sundance Film Festival. The cinematography is quite good and somewhat reminiscent of "Bottle Rocket", and the cast delivers solid performances. Heather Graham stars as a committed wife and New York club owner named Joline who basically stalks her husband Carl(Luke Wilson) who moves to an isolated area in Texas to "find himself". He does the occasional photography gig for a local paper, but is not capable of taking control of his life. As he is in his trailer with an option to buy, Joline watches and even becomes chummy with Carl's few neighbors, the woman he's dating, and even encourages Carl's editor to give him better assignments. Mark Ruffalo is quite good as Carl's girlfriend's jealous, truck driving ex-lover who Joline actually protects Carl from. The supporting cast of Casey Affleck as Joline's brother and Dylan Baker as a neighbor who's quite taken with Joline works quite nicely within the confines of this film. Heather Graham is definitely overlooked as an actress who has a charm that comes through in various ways. Though this film does lack focus with a script that's all over the place, it comes together enough to make this film entertaining for what it is.
Despite a fantastic cast (Heather Graham, Luke Wilson, Casey Affleck, Mark Ruffalo), I was nothing short of bored with this flick and had trouble even finishing it.
Committed Quotes
There are no approved quotes yet for this movie.