Road Trip
(2000)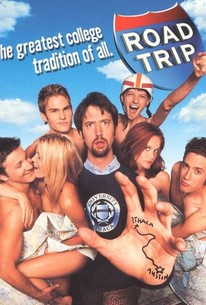 TOMATOMETER
AUDIENCE SCORE
Critic Consensus: Some humor is hit or miss, depending on the audience tastes, but the movie is funny overall. Mixed reviews for the cast, especially for MTV's Tom Green.
Movie Info
Cheating is when you're in a committed relationship and have sex with another person....It's not cheating if you live in different area codes, if you are too wasted to remember it. or if you are with two people at the same time because they cancel each other out. But it is definitely cheating if you videotape it and someone accidentally mails the tape to your girlfriend. This is what happens to Josh, who must now drag two college buddies, and one not-so-eager-kid who happens to own the car, on a raucous 1800-mile road trip from Ithaca, New York to Austin, Texas to save his lifelong romance.
Critic Reviews for Road Trip
Audience Reviews for Road Trip
balls. tits. pot. tits. whoa.
Coxxie Mild Sauce
Super Reviewer
"I don't care if you hate the movie. I love it. I watch it every time it's on T.V. even though I own it. It's just one of those films that you can always come back to knowing it's going to make you laugh. I love the cast. D.J. Qualls is one of the funnier ones in the film including of course Seann William's. It will always be one of the funniest movies I have seen. It's my favorite road-trip flick. You have your weirdo: Barry, your relationship kinda guy: Josh, your man whore: Scott, your stoner: Rubin, and your geeky virgin: Kyle. You can't go wrong with this group on the road in a blind chicks bus.
If you haven't seen the movie your missing out."
♥˩ƳИИ ƜѲѲƉƧ♥
Super Reviewer
"The greatest college tradition of all time." Four friends take off on an 1800 mile road trip to retrieve an illicit tape mistakenly mailed to a girl friend.
REVIEW
Although this has the exact same plot "Overnight Delivery" had, and roughly the same plot every other road movie had, I'll let it slide because they've found a good use for it. Actors like Breckin Meyer, Paulo Costanzo and DJ Qualls (yet another comedy face trying to get into serious stuff) may not be all that great but they're perfect teen hijink comedy material. You could say Seann William Scott sleepwalks through another Stifler performance, but he cleverly tones it down a bit so you care this time. Once it gets on the road, the fun you'd expect from the plot really does begin. Comedy set pieces start piling up, each more unpredictable than the last, except for the obligatory car troubles and the pretty obvious conclusion. The major plot is the achilles heel of this movie, which isn't as bad as it sounds. Most of all, it's just really funny. It all just works, whether it's stupid and obvious or slightly less stupid and obvious, it makes me laugh. Also contains a topless Amy Smart, which I didn't boo either.
Lorenzo von Matterhorn
Super Reviewer
Road Trip Quotes
| | |
| --- | --- |
| E.L.: | Barry, hit the lights. It's boner time! |
| | |
| --- | --- |
| Rubin: | Yeah, I can teach Japanese to a monkey in 46 hours. They key is just finding a way to relate to the material. |
| | |
| --- | --- |
| Barry's Grandpa: | You know what your problem is? Your all brains... not enough cock and balls! |
| | |
| --- | --- |
| E.L.: | You're already cheating! Anytime you pass up sex, you're cheating on yourself. |