Jason and the Argonauts
(2000)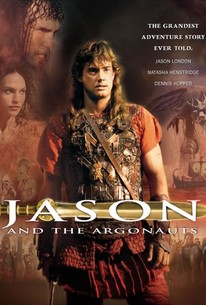 Jason and the Argonauts Photos
Movie Info
This 2000 production recounts a famous tale from Greek mythology: the quest for the Golden Fleece. The film begins when the evil Pelias (Dennis Hopper) usurps the throne of his half-brother, Aeson, king of the Greek city of Iolcus, after murdering Aeson and marrying his wife, Polymele (Diana Kent). Aeson's child, Jason (Mickey Churchill), escapes but returns years later as a young man (Jason London) to see his mother, Polymele, and claim his royal patrimony. Pelias then threatens to kill Polymele unless Jason brings him the Golden Fleece. Made of the skull, horns, and gilded wool of a winged ram, the fleece affords protection and prosperity to the kingdom that possesses it. It hangs from a tree on sacred ground in the Black Sea port of Colchis, where an unsleeping dragon protects it. After Jason agrees to undertake a perilous ocean voyage to retrieve it, he assembles a crew that includes the mighty Hercules (Brian Thompson) and the musician Orpheus (Adrian Lester). On the long ocean voyage aboard his ship, the Argo, Jason overcomes many perils -- passing through clashing rocks and fighting deadly Harpies -- while the gods Zeus and Hera observe from the heavens and occasionally meddle in Jason's exploits. At Colchis, the King Aertes (Frank Langella) forbids Jason to carry off the fleece, for it has long protected and sustained his realm. But he relents upon learning that the gods favor the youth. However, Jason must first prove himself by yoking a fire-breathing bull. With the help of the king's daughter, Medea (Jolene Blalock), a sorceress smitten with love for him, Jason succeeds, survives further tests, kills the dragon, and returns with the fleece -- and Medea. But in Iolcus, Pelias gains control of the fleece, then sends 200 soldiers to kill Jason and his crew. Thus, Jason faces still another trial. His fate and the fates of Media, Pelias, and all of Iolcus depend on how he responds.
Critic Reviews for Jason and the Argonauts
All Critics (6) | Top Critics (1) | Fresh (2) | Rotten (4)
Never before has Greek antiquity looked quite so much like a coffee shop.
Here ye, here ye, let the truth be told, not even all the special effects a big budget can buy are able to save Jason and the Argonauts from the doom of mediocrity.
October 15, 2002 | Rating: 65/100
Audience Reviews for Jason and the Argonauts
½
Cheeseball and miscast epic but okay if you're looking for a mindless fantasy pic. Dennis Hopper should never have done biblical films he was just to contemporary in persona.
At first I thought there was only one Jason and the Argonauts movie and that I was watching it. But then I realised that CGI was pretty good and all and that it was quite a recent movie. So yeah, it wasn't the 1963 version I was watching, it was this one. This is a 2 part movie (or apparently a TV show), each part about an hour and a half long. The film is about, as you guessed it, Jason's quest after a Golden Fleece, with his newly found crew, just like in Greek mythology. I was really impressed by the character development in the film. All of the main and supporting actors got into their roles well, giving each character a distinct personality. Hercules was absolutely kickass, although I felt as though he was supposed to be stronger than they depicted him in the movie. I didn't feel as though there was much chemistry between Jason and Medea. Maybe because their love was induced by the will of the Gods as opposed to coming about naturally. Speaking of the Gods, every scene with Zeus and Hera watching the mortals from the Heavens was absolutely amazing. The actors did a great job there and depicted the personalities of those two Gods very accurately. The action scenes were superb, ranging from Poseidon's wrath at sea, to a fight with harpies, to Jason's challenge against a metal fire-breathing bull, to a fight with the dragon guarding the Golden Fleece. The only disappointment in this film is that THERE WAS NO TALOS!!! I was eagerly awaiting that scene, but it never came! But despite that you'll still be pleased to see many other mythological creatures. This is going to go on my list of favourite epic movies. Truly fantastic fantasy adventure film!
Matthew Ashworth
Super Reviewer
A great action film remake that was shown on TV recently with a strong cast and updated SFX.
Jason and the Argonauts Quotes
There are no approved quotes yet for this movie.