Shaft
(2000)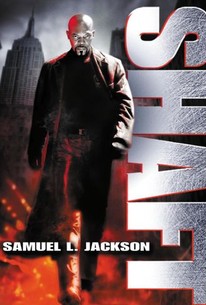 Movie Info
This action drama puts a new spin on Shaft, one of the key "blaxploitation" films of the 1970s. John Shaft (Samuel L. Jackson), the namesake nephew of the legendary private eye (Richard Roundtree), is a street-smart police detective who with his partner Carmen Velez (Vanessa L. Williams) has been assigned to a racially motivated murder case, in which a black college student was killed in front of a restaurant by Walter Williams Jr. (Christian Bale), the sociopathic son of a New York construction tycoon, who then fled the country rather than face prosecution. Diane Palmieri (Toni Collette), a waitress on a smoke break, saw the murder, but she doesn't want to talk to the police. Two years later, Walter is forced to return to New York, but without Diane's testimony, the city doesn't have much of a case. Soon, Shaft, Walter Junior, and Walter Senior's goons are all looking for Diane, with Junior enlisting the help of Peoples Hernandez (Jeffrey Wright), a small-time drug dealer who will do anything to move into the big leagues. Shaft and Carmen find Diane, but discover that she had a good reason for being on the lam for the past two years. Amidst all this activity, John gets frequent advice from his uncle, with whom he ponders the idea of quitting the force and opening a detective agency. Shaft was directed by John Singleton, from a screenplay by Singleton, Richard Price, and Shane Salerno. ~ Mark Deming, Rovi
Audience Reviews for Shaft
Still the man, any questions? Good Movie! This version is a lot more violent than the original, it didn't seem to be in Shaft's style. The pacing and editing in the first half of the movie were fast and smooth. John Singleton did a great job in establishing Shaft's character and the plot. During the second half of the movie, however, the movie starts to lose it's original slickness. Samuel L. Jackson is truly a great Shaft, he's probably the only actor out there who could pull this off, and he does an excellent job. Don't expect deathless art here but do expect to be entertained. It's one of those movies that is so politically incorrect it makes you gasp while you are laughing. There are lots of explosions, gore, and chases, both afoot and in cars, and it all happens in little more than 90 minutes. It's a lot of fun, highly recommended. Cool and deadly NYPD detective John Shaft arrests Walter Wade, Jr. in a racially-motivated slaying. The eye witness disappears, Wade jumps bail for Switzerland, and Shaft is livid. Two years later, Wade returns to face trial, confident his father's money and influence (and racial politics) guarantee an innocent verdict. Shaft looks hard for the witness, so Wade wants someone to kill her. He turns to a ghetto drug king, Peoples Hernandez, who's willing to kill for money, use Wade as a route to rich drug customers, and shaft Shaft. Can Shaft find the witness, convince her to testify, and shepherd her through the hail of bullets that Peoples is sure to let fly?
½
This spin off of the classic 70s blaxploitation series is an unfortunately maligned and under appreciated gem. Samuel L. Jackson is perfectly cast a John Shaft- a tough NYC homicide detective who is the nephew of the John Shaft from the original series. The plot (and there's a lot of it, surprisingly), follows Shaft as he investigates a racially motivated murder at the hands of Walter Wade, Jr.- a racist, sociopath son of a construction tycoon. Wade flees the country after making bail, but return two years later to find and kill the only witness to the crime. Shaft makes it his personal mission to bring Wade down, using whatever means necessary. It sounds simple, but I'm excluding some of the details which involve corruption, a Dominican drug lord, and that sort of thing. For what should be a relatively simple and straightforward exploitation film, this one has a lot, perhaps too much going on. I liked that they tried to be ambitious, but it wasn't really necessary. And counter to the films it is an homage to, there's little in the way of meaningful subtext and depth, though it does touch upon some stuff a bit. The film has some decent action, doesn't tarnish the legacy its tapping into, and has some solid performances as well. I don't really get the hate, but I guess it would have to do with being rather unoriginal and having some big shoes to fill. For what it is, the film is fine. Yeah, it's not perfect, but it's entertaining enough. Jackson is perfectly cast, even if he arguably gives a performance that isn't all that different from many of his other roles, Bale gives a passable, though shallow performance as Wade, Jr., and there's lots of notable people thrown in the mix as well, including cameos from Richard Roundtree and Gordon Parks, Sr. It is odd that Jeffrey Wright is cast as the Dominican, and his performance is odd, but that may be the only thing about this that really actually bothers me. Give this one a chance. It's really not a bad film at all. Plus, the music is just a nice little topping to this cinematic dessert.
Chris Weber
Super Reviewer
Shaft is who SLJ plays in every movie. He is a constant badass in most of his films. I won't say it's a problem. I mean why fix what isn't broken right? He's good at playing these characters. They suit him well. I didn't love the movie. I thought it was kind of cheesy at times. But the action was OK and the acting wasn't too bad. It reminded me of a movie that would have went straight to DVD. I just wasn't impressed and it's not something I would see again.
♥˩ƳИИ ƜѲѲƉƧ♥
Super Reviewer
Shaft Quotes
| | |
| --- | --- |
| John Shaft: | It's my duty to please dat booty |
| John Shaft: | It's my duty to please dat booty. |
| | |
| --- | --- |
| John Shaft: | What's my name? |
| lounge customer: | I don't know. |
| John Shaft: | John Shaft! |
| lounge customer: | What? |
| John Shaft: | John Shaft! Say it! |
| lounge customer: | John Shaft! |