Thick As Thieves
(1998)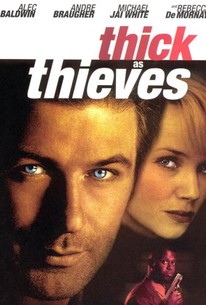 AUDIENCE SCORE
Critic Consensus: No consensus yet.
Movie Info
Two self-styled criminal masterminds find themselves in a turf battle neither much cares about in this underworld story that balances comedy against drama. Alec Baldwin plays Mackin, a career thief who picks his jobs shrewdly and carefully, and prefers to spend his downtime with his collection of rare jazz LP's and looking after his dog. Pointy (Michael Jai White) is a young upstart gangster trying to develop a taste for refinement and the good life. When Pointy sets up Mackin, Mackin is forced to retaliate, and before long both men and their associates are in the middle of a war neither is especially interested in winning, which begins to escalate in comic fashion. The skirmish eventually attracts the attention of a female cop (Rebecca De Mornay) who's become interested in Mackin's method of operation. Thick As Thieves received its world premiere at the 1999 Sundance Film Festival.
Critic Reviews for Thick As Thieves
All Critics (3) | Fresh (2) | Rotten (1) | DVD (4)
Interesting, well-acted feature debut by a new indie director
One of those self-consciously quirky crime films that feel more dated as each passing second brings the film world farther away from Pulp Fiction.
Audience Reviews for Thick As Thieves
Though ultimately a familiar story, Thick as Thieves departs from the lone assassin archetype and instead makes it more of a buddy criminal movie with a quirky sense of humor. Alec Baldwin is at his usual best, with the rest of the film being made up of familiar character actors. Who doesn't work, however, is Michael Jai White, who was completely over-the-top, and seemingly out of place the entire movie. The film also certainly lacks at character development, we never appreciate the camaraderie or history behind the characters. Still, for all of its going through the motions, it is always watchable.
Jeffrey Meyers
Super Reviewer
watched this movie late at night, but I was right wide awake! The movie is a story about a thief who after a successful assignment, escapes a attempt at killing him and seeks for revenge after a black gangster who likes the fine things in live. The movie distinguishes itself from other crime movies because of the humor and the witty and funny dialog. Michael Jai White proves to be a very good actor. I knew him from Spawn, but this role is completely different and he is impressive. Baldwin is a very versatile actor who does great in his role as Mackin the thief. The other roles a nicely casted too. It is a well paced, intelligent humorous gangster movie. Rebecca DeMornay proves that you don't have to have a big role to impress. She reminded me of Frances McDormand in Fargo. I can't understand why I didn't hear about this movie before. An example of gems waiting to be discovered by the audience. I loved it.
Cassandra Maples
Super Reviewer
Thick As Thieves Quotes
There are no approved quotes yet for this movie.