Who's Minding the Store?
(1963)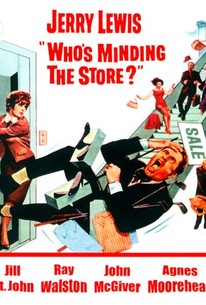 Who's Minding the Store? Photos
Movie Info
This frantic comedy finds Raymond (Jerry Lewis) working in a department store. Mr. Tuttle (John McGiver) is the watchful owner, whose outspoken wife Phoebe (Agnes Moorehead) makes no secret about her feelings that Raymond is an incompetent boob. Barbara (Jill St. John) is the pretty elevator operator, and unknown to Raymond, the boss' daughter. Quimby (Ray Walston) is the floor manager who has more of an eye for the ladies than his job at the store. Raymond proceeds to wreck every department in the store, earning new positions with each mishap.
Critic Reviews for Who's Minding the Store?
Audience Reviews for Who's Minding the Store?
This is the 1st time I've ever sat & watched a full Jerry Lewis movie.I really only sat & watched this 1 because I was flipping through looking for something to watch a couple days ago & this movie was on.It was on the vacuum cleaner scene & it looked pretty good so I thought the next time it's on, I'll check it out (Today was the day) The skits (I guess you could call them that) were just way too corny for me & I didn't really get into the movie until right before the vacuum cleaner scene.The only skit of the movie I really did like was..... The vacuum cleaner scene.I guess I'm just not a fan of Jerry Lewis' movies
Brody Manson
Super Reviewer
Who's Minding the Store? Quotes
There are no approved quotes yet for this movie.