Loser
(2000)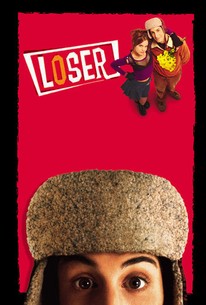 TOMATOMETER
AUDIENCE SCORE
Critic Consensus: In the grand tradition of teen flicks, Loser comes across as another predictable and underwritten movie with nothing new to offer.
Movie Info
After making Fast Times at Ridgemont High (1982) and Clueless (1995), two of the definitive films about the joys and terrors of American high school, writer/director Amy Heckerling moves on to college with this bittersweet romantic comedy. Paul Tannek (Jason Biggs) is a bright but socially inept college freshman who has just arrived at NYU from the Midwest. Frumpy and studious, Paul has trouble meeting people, doesn't get along with his roommates, and most of his fellow students hardly acknowledge his existence. But Paul finds a soul mate in Dora Diamond (Mena Suvari), who has even more problems than he does: she's out of money, has nowhere to live, works a humiliating job as a waitress at a strip club, and has become involved with one of her professors, Edward Alcott (Greg Kinnear), whose callous treatment hardly boosts her shaky self-esteem. Dora gives Paul some advice on how to fit in with his roommates, and Paul lets her stay with him while she looks for work; when he becomes infatuated with her, he has to figure out how to win her away from Edward. Loser marked a reunion for Jason Biggs and Mena Suvari, who starred together in the hit teen comedy American Pie.
Audience Reviews for Loser
Amy Heckerling doesn't quite know what kind of audience she is trying to engage. If she's trying to show high school kids the problems and unexpected strife of college life in a metropolis, then she should have shown that world in a more focused way. If she's trying to be funny and quirky for the older subset than her characters should have been better written and less dickish. Besides being clinically underwritten, it's difficult to figure out who is the lead character, or at least the person we're supposed to sympathize with. Throughout the film we follow Paul (Biggs) and it seems that he is our protagonist. We feel for him when his dorm mates are mean spirited, when the girl of his dreams is misguided, and when everything tries to keep him from getting through school, but he lacks character development. He goes through hard times, but there's no resolution to be seen, and he doesn't change at all. Dora (Suvari) on the other hand has a mess of bad things happen to her, and then she changes her opinion about her relationship with her professor (Kinnear), which means she's the only character who evolves throughout the film. It seems that we should be following her, but then interwoven in her tale is that of Paul's, who just seems like some poor schmuck who never wins. Without any proper direction for our characters, and no change in their behaviors or thoughts on the world, there shouldn't really be any reason for this film to exist. It's trying to show the problems of college students, but it doesn't realistically depict them. Paul's three roommates are also pretty distracting, as they're rich, sycophantic rapists, who don't seem to get much comeuppance until the credits. Besides its plot defects it's also drab and very of its time, making this film a tiring slog.
Spencer S.
Super Reviewer
My reviews are seldom this short and concise, but this movie was so predictable and unoriginal, that there's really not much that I can say or write about it. Unless, of course, I choose to go into the details of what made it so mediocre. But I'm not gonna do that this time, as it wouldn't really serve any purpose. It still gets a "3" from me for its entertainment value, but that's about as far as my generosity goes.
It's an incredibly dumb and cheesy movie, it kind of reminds me of Revenge of the Nerds. Only there's only one nerd and he's not really all that smart. There is almost nothing to really like about this movie, but nothing to make you angry either. It just reaffirms you that there are a lot of people who manipulate others, but everyone already knows that.
Conner Rainwater
Super Reviewer
Loser Quotes
There are no approved quotes yet for this movie.