On the Beach
(2000)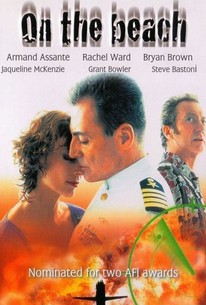 Movie Info
The plot, setting, and characters of this 2000 made-for-TV adaptation of On the Beach are generally the same as in the acclaimed 1959 version about a world doomed by nuclear fallout. Even the conspicuous "There Is Still Time" banner -- warning humankind to abandon nuclear weapons -- is there. The similarities between the films are understandable: Their directors (Stanley Kramer, 1959), and Russell Mulcahy, 2000) based their productions on novelist Nevil Shute's On the Beach and used the same scriptwriter, John Paxton, although writers David Williamson and Bill Kerby doctored Paxton's work. Of course, the newer version set in 2006 exhibits updated technology including a snazzy submarine with blinking computers. Moreover, it appends incidental scenes -- like a whole family driving off a cliff -- to show that it isn't easy to face the end of the world. Armand Assante does an okay job as Dwight Towers, the American submarine commander who pulls up at the only land mass not littered with corpses, Australia. Most of the other actors -- Rachel Ward as Moira Davidson, Grant Bowler as Peter Holmes, Jacqueline McKenzie as Mary Holmes, and Steve Bastoni as Neil Hirsch -- also perform capably. However, Bryan Browne is annoying as know-it-all scientist Julian Osborne, who prefers to curse, complain, and drink his way into the great beyond. Director Mulcahy mars the film by distilling end-of-the-world tension into quotidian melodrama in which Towers (Assante) woos and wins Browne's girlfriend, Moira (Ward), and Moira and her sister quarrel over which one was the favorite of their parents. The ending of the film is chilling but mawkish. Departing, it seems, is such sweet sorrow.
Critic Reviews for On the Beach
Audience Reviews for On the Beach
Nevil Shute's nuclear fallout apocalypse got an Australian television reboot in 2000, and its different than the original Gregory Peck, Ava Gardner and Fred Astaire effort in that there's more Aussie in it, and why not? Its set in Melbourne, yah? More time is spent on the character's motivations, too, and so its more resonant in that regard at the finale, even if it's slower at the start. What's missing (and this is a minor complaint) is Gardner's old-party-girl-world-weariness which added gritty texture to the original.
Kevin M. Williams
Super Reviewer
A gripping film.Updateing itself from the 1959 version.With a running time of 3hrs i never got bored once.And if you can survire the tear jerker end with out a tear or two your a harder man than i.
Brian De Guelle
Super Reviewer
This TV movie remake is absolutely sci-fi and better than the 1959 film with more story. Both the acting and the production are excellent.
Dean McKenna
Super Reviewer
On the Beach Quotes
There are no approved quotes yet for this movie.