The Innocents
(1961)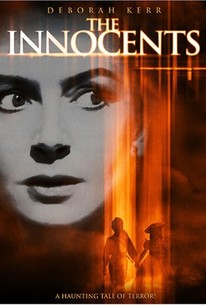 TOMATOMETER
AUDIENCE SCORE
Critic Consensus: Creepily atmospheric, The Innocents is a stylishly crafted, chilling British ghost tale with Deborah Kerr at her finest.
Movie Info
In this lugubrious but brilliantly realized adaptation of Henry James' classic novella The Turn of the Screw, 19th century British governess Miss Giddens (Deborah Kerr) arrives at a bleak mansion to take care of Flora (Pamela Franklin) and Miles (Martin Stephens), the wealthy household's two children. Outwardly the children are little darlings, but the governess begins to feel that there's something unwholesome behind those beatific smiles. After several disturbing examples of the children's evil impulses, Miss Giddens gets information from the housekeeper (Megs Jenkins) that suggests that the children may be possessed by malign spirits -- or are all these events just the products of Miss Giddens's own imagination? The best and most frightening vignette in The Innocents occurs when the governess casually kisses young Miles, then recoils in horror when she realizes that someone other than Miles has kissed her back. Unlike many CinemaScope productions, The Innocents plays better in the claustrophobic confines of the TV screen. ~ Hal Erickson, Rovi
News & Interviews for The Innocents
Critic Reviews for The Innocents
Audience Reviews for The Innocents
The best ghost stories ask what gets to be a pretty serious question if they are done right: "what do YOU think what happened?" or essentially, how much do you believe in yourself? Did you see that? Did you hear that? Is this really happening? All of these are better than the alternative which is never too far behind: "Or am I crazy?" So this is the foundation of Henry James immortal classic ghost tale, and its a beautiful piece of work. Deborah Kerr finds one of her best turns here as she begins to believe that much more is going on beneath the innocent surface of appearances (in a dark and gloomy deserted castle no less) that what seems readily apparent. Practically the father of this genre, the years not dulling the sharpness of the knife, no, not one lick at all.
Kevin M. Williams
Super Reviewer
It tackles the material in quite a corageous way for a 1960s mainstream British film. The sumptuous deep focus photography and set decoration make one fear getting lost in the mysterious shadows of its widescreen framing, with a perfectly propper Deborah Kerr making it difficult for us to second guess how this maybe-not-so-sane nanny will proceed with every creek of the old house. Mary Poppins she ain't.
Matheus Carvalho
Super Reviewer
½
Miss Giddens (Deborah Kerr), a nineteenth century British governess, is appointed to take care of two children, Flora (Pamela Franklin) and Miles (Martin Stephens). Upon arriving at the bleak mansion she meets the housekeeper (Megs Jenkins) and also Flora. Miles arrives a few days later from school. The children seem like little angels but, following a series of bizarre events and examples of the children's wicked impulses, Miss Giddens begins to suspect that all is not what it seems. This dark and atmospheric tale is a wonderful example of how to create an admirable horror movie that, although has violent undertones, features very little violence when all is said and done. 'The Innocents' is certainly a psychological horror movie which leaves in doubt how much of the inexplicable happenings are supernatural, and how much is in the mind of the protagonist, Miss Giddens. Director Jack Clayton uses some astonishing visual trickery and ghostly effects to create and maintain a very unsettling atmosphere, almost from the very beginning. A number of effective ghostly apparitions are displayed on screen during the movie from varying distances which gives 'The Innocents' a constant, foreboding atmosphere. The way some scene changes blend with the end of the previous scene are rather disconcerting and almost dream like as there are long lingering images, once again, wholly adding to the effect. Some of the dialogue may seem a little unrealistic, but in general the movie is well scripted and features a few very dramatic scenes thanks to some delightfully written dialogue and strong acting performances. William Archibald and Truman Capote both won awards for their script writing. The only real fault with 'The Innocents' is how fast the film moves along. Miss Giddens seems to realise the truth of what is happening all too quickly. This does not make 'The Innocents' less enjoyable, but it would have been nice to have had an extra ten minutes or so explaining the story to us a bit more. 'The Innocents' has a sustained tone of dread throughout the movie. It seems that Miss Giddens is unable to move without being confronted by some spectre or seeing some rather peculiar behaviour exhibited from the children. I'd compare the dark atmosphere with that of 'The Haunting' (1963), both movies are comparable in the way they are presented and are both aesthetically pleasing. The acting was of a high standard, though one must forgive the two young performers if they occasionally seemed to overact. Martin Stephens was very good as Miles, playing his sinister part with an awful power, even though the character's superciliousness became somewhat of an annoyance. Megs Jenkins was also delightful as the anxious housekeeper Mrs. Grose. From the moment Mrs. Grose is first introduced the viewer can begin to suspect something. Jenkins came across as a friendly, but scared, woman who is desperate to maintain decorum in the house. A fine performance suited her character marvellously. One must also mention Deborah Kerr's fine performance as Miss Giddens as she played it with the right balance of inquisitiveness and fear. Deborah's dramatic performance certainly helped make this movie fantastic and one sympathises with her deeply as the film ends on the sombre and heartbreaking note that it does. 'The Innocents' is an elegant and stylish movie that is certainly worth watching. Fans of 'The Omen' and 'Village of the Damned' should enjoy this as well as any fan of dark, atmospheric horror. A strong screenplay, fine performances and breathtaking visual trickery make this movie a very pleasing addition to the horror genre and I highly recommend it to all. 'The Innocents' was able to scoop a BAFTA Award (British Academy of Film and Television Awards) for Best British Film as well as a BAFTA nomination for Jack Clayton which he thoroughly deserved.
Cassandra Maples
Super Reviewer
The Innocents Quotes
There are no approved quotes yet for this movie.