10 Rillington Place
(1971)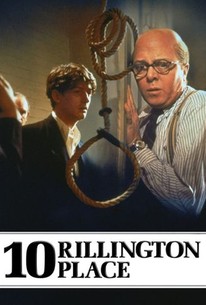 10 Rillington Place Photos
Movie Info
This film chronicles the true story of British mass murderer John Reginald Christie. Throughout the late 1940s, Christie lured middle-aged women to his London flat, then killed and buried them. Timothy John Evans was wrongly accused of one of Christie's murders and executed. Several years later, the truth came out.
Critic Reviews for 10 Rillington Place
Audience Reviews for 10 Rillington Place
½
Not the fastest moving of films, but based on a true story, it's an intriguing watch. Attenborough was very good in this sinister role and for the time of it's release, it managed to show enough of the story to give a gruelling account of the case.
Lady D'arbanville
Super Reviewer
Immediately one of the greatest films I have ever seen. I feel so privileged that I was able to see this film on the big screen. It starts with the wonderful Richard Attenborough being a sick little puppy. Set during the war, in a policeman's unifrom, offering medical help to a young woman. Attenborough is everything that someone should trust. A calm English man that offers you tea. Next, he's murdering the woman with gas, and not a hint of remorse. The film jumps forward 5 years, and introduces a tragic couple. They are about to have a baby, but cannot afford one. This sparks Attenborough's killing side, and he offers to perform an abortion. The film becomes a tense and depressing thriller that outlines the problems with capital punishment. It's sad as it's a battle of wits, but one of the protagonists has no wits to battle with. Attenborough is one of the most chilling and disturbing villains I've ever seen. The claustrophobic setting, the invasion of someones life, and the heartless deception, are just some of the great things about this movie. As it finished on a freeze frame we hear heavy breathing, next the credits scroll silently. Everyone in the cinema stood up in silence as though they had just been punched and winded. This film had more dread and a bigger impact than any I can recall.
Luke Baldock
Super Reviewer
Excellent fact-based crime drama that avoids sensationalism for a more subtle approach, but retains the psychological darkness you'd expect from a serial killer movie. This movie proves life is stranger than fiction, and nothing beats a well made movie of a true horrendous crime. As a side note: I have read that these events helped abolish the death sentence in England. I can believe it, cuz a story likes this really makes you ponder this issue.
Cynthia S.
Super Reviewer
10 Rillington Place Quotes
There are no approved quotes yet for this movie.