10th & Wolf
(2006)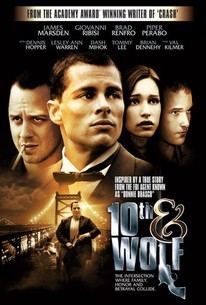 Movie Info
A man is forced to go against his family and his principles in the name of serving his country in this drama inspired by actual events. Tommy Santoro (James Marsden) was just a boy when his father was murdered, and young Tommy quickly discovered his dad was a high-ranking member of the Philadelphia Mafia. Tommy grew up determined to stay on the right side of the law, but his brother Vincent (Brad Renfro) and cousin Joey (Giovanni Ribisi) had other ideas and ended up joining "the family business." Tommy enlisted in the Army and served in Operation Desert Storm, but when he impulsively stole a jeep, he was arrested by the military police. However, Tommy finds he's not questioned by MP's, but by Horvath (Brian Dennehy), an FBI agent who knows all about his past and family history. Horvath has learned that Sicilian mobsters have been taking over the Philly rackets, and persuades Tommy to join up with Vincent and Joey in order to infiltrate the Mafia and serve as an informant to the FBI. Tommy grudgingly agrees, but he's uneasy about betraying his family and following the path that killed his father -- especially when he discovers his actions have put Vincent and Joey in grave danger. Also starring Dennis Hopper, Piper Perabo, and Lesley Ann Warren, 10th & Wolf was the directorial debut for Bobby Moresco, who won an Academy Award for his screenplay for Crash.
News & Interviews for 10th & Wolf
Critic Reviews for 10th & Wolf
Audience Reviews for 10th & Wolf
A 4 Star Film, About as good as they get when it comes to Crime Family Movies. A Solder is facing prison or go back home and collect information for the FBI by setting up a Mob Boss. Is packed with action and thrills and drama. A full cast. I didn't recognize Val Kilmer a change in parts for him. Dennis Hooper played good boss. But Giovanni Ribisi stole the show. If you have passed this one up before or your a little skeptic because its not a 2009 Movie, don?t be. Its well worth it. A good addition to any collection. 4 Stars
Bruce Bruce
Super Reviewer
½
This movie is exactly why Giovanni Ribisi is one of my favorite actors. He was brilliant in this movie. But he is in every movie he does. But this movie blew me away. One of the best Mob movies I have ever seen. The cast was so good. The acting was right on the money as they say. Brad Renfro, (R.I.P) did an amazing job at playing Vincent. James Marden, was so good. I have only seen him in a couple movies and by far this movie was the best role I have seen him portray. The story was intense. It grabs you from start to finish. Just AMAZING.. I usually don't care for these types of movies, but knowing Giovanni, was in it I thought I would watch it just for that fact alone. So glad I did. I would have missed out on a really great movie. I recommend this to everyone. Even if this isn't your kind of movie, I think you will enjoy it.
♥˩ƳИИ ƜѲѲƉƧ♥
Super Reviewer
½
This was an undeniably smooth and richly detailed mobster crime saga. You will not only enjoy it you will be absorbed by the young and agile characters, (as well as the older veteran ones) as they tell their stories. A haunting believable tale that will always be remembered. In the same caliber of performance of "Blue Hill Avenue" See this....get it...I want this for my collection!!!!!!!!
Fascade Fiveoneeight
Super Reviewer
10th & Wolf Quotes
There are no approved quotes yet for this movie.