Get Carter
(2000)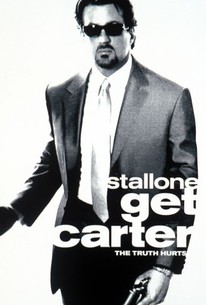 Movie Info
Hit man Jack Carter returns home for his brother's funeral, and is soon investigating the events that led to his death.
News & Interviews for Get Carter
Critic Reviews for Get Carter
Audience Reviews for Get Carter
The remake of Get Carter is really a mixed bag. I view it as a mediocre movie, one that relies on a formulaic storyline, and poor performances from those involved. I really wanted to enjoy this movie, but this was a tedious affair, one that fell short of its potential. Sylvester Stallone is a good actor, but here he is wasted, and as an action picture, Get Carter just doesn't deliver the thrills that it possibly good. The film feels predictable, rushed and overdone, like the filmmakers tried way too hard at masking a revenge themed action movie, and in turn the results are unimpressive. This is the type of film that you really want to like, but can't due to the fact that the formula has already been done before, and much better as well. I felt that Get Carter could have been much better, and though it had a good cast, the writing just failed to grab your attention. The film had some decent action scenes, but nothing really that stood out to truly make this a memorable actioner. Sylvester Stallone has done far better wo0rk, and considering that was made at the start of the 2000's. However it would be a few years till Sly would get his groove back, and retain that same edge he had back in his heyday. With this movie, he just doesn't deliver anything worthwhile for fans, and it's a shame because if the story would have been a bit more developed, then I think that the film would have succeeded in being a memorable action film. As it is, it's a mediocre movie, one that doesn't stand out, and isn't anything worthy in the long run.
½
Have I gone mad, has it come to this me I said me watching a Sylvester Stallone Film, You would have think I learned to stop watching him after Rocky I and You think Stallone would have stopped acting after Rocky I. a dry action film about revenge. Jack Carter returns home to his brother's funeral and decides to solve the mystery surrounding his brother's death. Perhaps the only thing interesting about the film is the friendship made between Jack and his niece, but even this is marred by a plot twist that's handled with such discomfort that it doesn't seem to belong in a movie with the Italian Stallion. Also starring Michael Caine, from the original "Get Carter," and the ever-so-versatile Alan Cumming, I really expected more from this movie. But the film loses its steam after the opening credits. 1 1/2 Stars
Bruce Bruce
Super Reviewer
In no way is it a terrible movie, in many ways it is really fun and a decent action movie. However, the fact that it is a remake of a classic doomed this from the beginning. No matter how awesome Sylvester Stallone is, it's seen as a copy and lower being. Sure it's not the most original movie ever made, but I think it will please any Sly fan. The action is really well done and it comes off pretty gritty. I loved the look of the film and it really has a very noir style about it which the original doesn't. The side characters are fun, Mickey Rourke as a strip club owner is just too fun to see played out. Given a proper chance, Get Carter is great.
Conner Rainwater
Super Reviewer