Killjoy
(2000)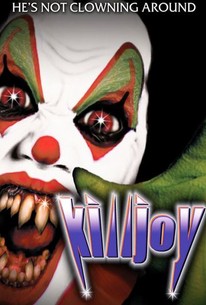 AUDIENCE SCORE
Critic Consensus: No consensus yet.
Movie Info
A lot of kids think clowns are scary, but a bunch of adults discover just how frightening the wrong kind of clown can be in this horror opus. After the girl he loves is stolen away by a thuggish gang member, a young man uses the forces of evil to bring to life Killjoy (Angel Vargas), a clown doll he owned as a child. The young man is killed before the spell can fully take effect, but Killjoy soon comes to life to wreak a horrible revenge on the people who killed his master. Killjoy also stars William L. Johnson, Vera Yell, and Napiera Danielle Groves.
Critic Reviews for Killjoy
There are no critic reviews yet for Killjoy. Keep checking Rotten Tomatoes for updates!
Audience Reviews for Killjoy
Horrible, poorly constructed horror film that is lazy in its execution. I usually like clowns used in the horror format and with films like Killer Klowns from Outer Space, clowns make for a very scary horror monster because everyone hates clowns. This film could have been good; unfortunately everything just doesn't fall into place. The filmmaker's doesn't seem to understand how to create an effective and entertaining film. In the hands of capable filmmakers, Killjoy might have been a good film. However everything in this film is just plain awful. This is straight to DVD trash that doesn't have a single redeeming factor about it. As far as clown horror films are concerned, this is by far the worst. The idea was interesting, but it just didn't offer anything to appeal to the viewer. With a poorly written script, Killjoy is just a bad film, not worth watching. Stephen King's It was better, and I hated that one. Given a better script, and bigger budget, this film might have succeeded in being a terrific flick that was enjoyable, fun and ultimately entertaining. Don't watch this film thinking you'll expect a great film about an evil clown. This is poorly acted and directed garbage that never should have seen the light of day and it's pitiful how such an interesting idea could make for such a bad picture. Avoid this film if you love a well constructed horror tale as this one fails to deliver effective thrills, a truly compelling plot and memorable scares. Killjoy is just terrible filmmaking that just doesn't offer anything to the genre.
Now I usually go to a video store of a good friend of mine name Simon and whenever i'm stuck on deciding what to review he pulls out a random movie for me. Because of this I get to watch some movies I never heard off, and this is one of those movies that turns out to be bad. Three youngsters encounter an evil clown, that's actually the best I can do without making this movie sound like a joke. I would like to point out that this movie has a incredibly low budget. I also haven't seen such poor storytelling since I watched The Singing Forest. Now I know these "actors" are suppose to be high school students, but they look like they're in there late twenty's and we have some random hobo for no serious purpose. Also, I would like to get this out of the way by saying where are the parents and why aren't these high school students ever in class. Now this movie is 71 minute for a reason because the "writers" of this movie had little to no material to work with, yet I managed to write so much about this 71 minute movie. Now time complain more about the story. So Michael get bullies by this "gang" and summons Killjoy by resurrecting it with a doll. Now moments later the "gang" that bullied him in school that same day tell him outside his house that they want to be his friend and he falls for it and goes outside to meet them. So they drive around at night time because you can't see cars or a background for that matter and goes into the forest. The gang later joke around with Michael and shoot him with a gun that the "gang" thought was unloaded. The "gang" don't seemed to be concern as they say it was an accident and it forward a year later with the baffling thought that no one cared that Michael died. It has some pointless scenes as you would expect with a movie that looks like it was made by high-school students with no knowledge of making a movie. So continuing to a warehouse scene that made me laugh so hard that I had paused the movie until I stopped laughing to continue. Here's why, when the "gangsters" hear a ice cream truck outside there apartment they actually go to get ice cream with ridiculous dialogue that no gangster would ever say in real life. So they go outside and the ice dream man is dress like a clown which is supposed to be Killjoy who took him a entire year to finally do something about Michael death. So the "gangsters" go to the back of the ice cream truck and are tele-ported to a warehouse. The "gangsters" don't ever seemed to be concerned by the fact they have just been tele-ported. So both of these gangsters die in the most hilarious and poorly made deaths i've ever seen. So the first "gangster" dies by getting run over by a car, but you can clearly tell he jumped back or is just lying on the floor. The other "gangster" melts completely away, but we still hear him scream even after he melts away completely. The rest of the movie is just as bad and the only reason this review is really long is because I couldn't believe what I was watching and your time is better well spent. So the other "gangster" gets tele-ported by going to the back of the ice cream truck. What's up with these people and ice cream? So I finally find out that one of the "gangster" is name Babyboy at this point, that's the worst name i've ever heard for a gangster. This "gangster" sees Killjoy and shoots him with his six-shooter about twenty times. You know how many bullets a six-shooter can shoot in one round without reloading, six. Also, who the hell is this hobo character and how does he know what happened to Michel when he wasn't in most of the movie. So the hobo melts away and the high-school kids don't seem to be interested at all, just like me when i'm watching this garbage. So they fight zombie version of the "gangsters" and Killjoy turn into Michael and they kill him, two more times. Michael later gets killed by Killjoy making it the fourth time this guy died in this mess of a movie. So the high school students tele-port back home and live happily ever after knowing Michael died four times in this movie. So Killjoy literally kills any joy you would have of watching a movie. I know this has to be like the longest review i've ever written so far mostly because this movie is easy to pick on and make fun of. I've never seen a movie this ridiculous and knowing me I know I will find something worse than this. The worse part is that there is a Killjoy 2 and my suffering will continue as I have a rule to review every movie in a franchise. If you're a fan of bad movies and want some serious laugh, go check this out. Other than that, stay away because like I said earlier, it will kill any joy you'll have of watching a movie.
Caesar Mendez
Super Reviewer
THE WORST MOVIE I HAVE EVER SEEN! 1/2 a star for horror, 5 stars for comedy!
Stephen Morrison
Super Reviewer
Killjoy Quotes
There are no approved quotes yet for this movie.