Attack
(1956)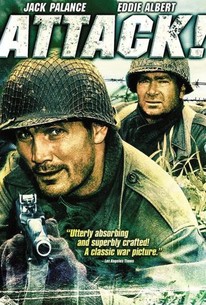 Movie Info
It is easy to see why the US Army refused to cooperate in the production of Attack. Based on the Norman Brooks play The Fragile Fox, this searing war film is a powerful indictment against a military system which protects even its most incompetent of officers. Eddie Albert plays a posturing but hopelessly inept infantry captain, whose misdeeds are covered up by his colonel Lee Marvin. Albert has strong political connections in the US, and Marvin hopes to take advantage of this after the war. Lieutenant Jack Palance has sworn to kill Albert with his bare hands if the officer bungles another mission. Albert orders Palance and his men into an untenable position on the battlefields of Belgium--and then, true to character, is too cowardly to send backup troops, leaving Palance's men to their fate. By sheer strength of will, Palance, whose arm has been shattered by an enemy tank, drags himself to the cellar where Albert is billeted and attempts to rid the world of the terror-stricken captain. Palance dies before he can keep his promise, but when the craven Albert makes an effort to surrender himself and his men to the Germans, he is shot down by lieutenant William Smithers. The rest of the men conspire to cover up Smithers' "crime" by claiming that Albert died from enemy fire, but Smithers proves to be less willing to prevaricate than his fellow soldiers. Though most filmgoers are mesmerized by Eddie Albert's virtuoso performance as a snivelling yellow-belly, director Robert Aldrich claimed that Albert gave his best reading during rehearsals, and that what ended up on film was nowhere near as powerful as it might have been. ~ Hal Erickson, Rovi
Critic Reviews for Attack
Audience Reviews for Attack
½
Jack Palance gives the performance of his career as a tough lieutenant who loses one too many men because of the cowardice of his commanding officer Eddie Albert. Robert Aldrich went on to make many testosterone fuelled XY pleasers such as The Dirty Dozen and The Longest Yard, but Attack is a far more sophisticated, character driven affair. The theme of the moral ambiguity of a doomed anti-hero seeking revenge combined with some crisp black and white photography echo the stylistic hallmarks of Film Noir set within the arena of war. It examines the flaws of the chain of command where "lions led by donkeys" lose their lives because of the incompetence or cowardice of those they are forced to obey. Eddie Albert's weak willed and obsequious captain being the main culprit, but Lee Marvin's self serving Colonel who keeps a man he knows to be worthless in place for his own political needs shows corruption in the system in much the same way as Kubrick's Paths Of Glory. William Smithers also puts in a fine performance as the honest soldier trying to do what's right but finding himself caught between a rock and a hard place and the battle sequences are gritty and believable without being tainted by the usual associated macho bullshit that often comes with the genre. Something of a forgotten classic, Attack is the best war film you've never heard of.
½
Jack Palance tries to lead an infantry company in the waning days of WWII. He battles tough German resistance and an enormously incompetent commanding officer (Eddie Albert). A classic anti-war film of the 1950's that's weakened a bit by a couple of one dimensional characters. Albert's extreme cowardice is countered by Palance's uber-heroics. Their conflict is so all-consuming it makes the German army seem minor and incidental.
Randy Tippy
Super Reviewer
Attack Quotes
There are no approved quotes yet for this movie.