The Contender
(2000)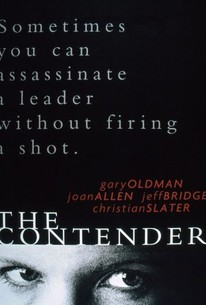 TOMATOMETER
AUDIENCE SCORE
Critic Consensus: The Contender wears its political heart on its sleeve, but strong performances and a solid screenplay help the end result add up to a gripping drama from either side of the aisle.
Movie Info
The hard-ball gamesmanship and casual character assassination of American politics sets the stage for this thriller from writer and director Rod Lurie. When the Vice President of the United States unexpectedly dies, all eyes in Washington D.C. are on President Jackson Evans (Jeff Bridges) as he chooses a new VP. Sen. Jack Hathaway (William Petersen), a respected career politician enjoying a new swell of popularity after a well-publicized attempt to save a drowning woman, is expected to be Evans' choice, but instead he picks Sen. Laine Hanson (Joan Allen), a decision that raises eyebrows on both sides of the political fence. Veteran power broker Shelly Runyon (Gary Oldman) is vehemently opposed to Hanson's appointment, in part because the Democratic senator was once a Republican, and vows to do everything in his power to prevent her from being confirmed. Runyon and his staff start digging for dirt on Hanson, and soon make a surprising discovery -- her personal morality is called into question when it's alleged that she took part in a group sexual liaison while she was a college student. The Contender also stars Mike Binder as one of Hanson's advisors, Mariel Hemingway as an old friend with a surprising secret, Christian Slater as an ambitious congressmen assisting Runyon, and Philip Baker Hall as Hanson's father; it was the second feature from former film critic Rod Lurie. ~ Mark Deming, Rovi
News & Interviews for The Contender
Critic Reviews for The Contender
Audience Reviews for The Contender
A decent, if very flawed and Hollywood-ized political thriller concerning the President (Jeff Bridges) having to fill the void of Vice President, and deciding between a very well-respected governor (William L. Peterson), and a woman senator (Joan Allen) with an apparent dark past. This movie has all the ingredients to be a smash - Joan Allen at her finest, Jeff Bridges having fun as the President, Gary Oldman playing sleazy, heck even Sam Elliott is a key part of the whole thing, sadly the movie falls flat on its face at its ridiculously over-the-top finale that left me feeling betrayed. While it pulls some twists that are original and somewhat conceivable, the last 5 minutes of the movie turn this film from being a respectable political thriller into an okay but unsatisfying movie that decided to get too dramatic instead of sticking with the subtle but effective card it played so well for most of the story. Not horrible, but certainly skip-able.
Dan Schultz
Super Reviewer
½
"Sometimes you can assassinate a leader without firing a shot." Sexy secrets from a womans past come to light as she runs for Vice President.
REVIEW
Political imbroglio drama with a what if premise: What if the first nominee for Vice President of the United States had an indecent sexual past leading to her character in question vilification by the select committee in appointing her? Loaded with potboiler red herrings and questionable attacks on loyalty are just a few of the gaping holes in this heavy handed but extremely well acted morality play thanks largely to the always solid Allen as the stolid, uncompromising candidate in question who will not kowtow to the powers that be including the equally on target Oldman (in a Farrelly Brothers' inspired hairstyle) as her chief nemesis and Bridges as the folksy, yet smarter than he appears Commander in Chief.
Lorenzo von Matterhorn
Super Reviewer
There are so many elements that could have made this a complete disaster, such as the hilariously bad ending, the movie's inability to hold its position on female sexuality, Christian Slater's lousy performance, and the need to put Gary Oldman in a shitty half-bald wig to emphasize that he's an evil slimeball, but Joan Allen's noble performance spares the affair. I believe that The Contender has good intentions, but like many other films of its kind, it does not trust the minority character it has empowered in the end. After the cards have fallen, Jeff Bridges gets the final word in the whole affair, which is really a shame since the movie is certainly not about him. It is reminiscent of Spencer Tracy's excruciating final monologue in Guess Who's Coming to Dinner. It's a shame that the film passes him its final contention, because the rest of his performance is acerbic and thoughtful as one might come to expect from Bridges. Allen of course makes the film, playing a strikingly believable politician; mature, assertive without aggression, not flighty but not totally humorless. She takes the part and plays it with a total lack of histrionics, which creates an elegant contrast to the rabid media frenzy her past may have left in its wake. Unless you ain't down with the gangbangs, you leave the movie feeling like Allen is someone you'd really want as a politician, someone with her eye on what is really important. The problem lies primarily in the ending's treatment of her, but obviously I cannot discuss this without spoiling it. Simply, beatifying a character isn't necessarily the best way to exonerate them. I can't help but wonder if this was a studio concession, or a way to gloss over the audience's own squeamishness with Mrs. Hanson's dubious acts, but I do know that it feels cheap. Anyway, good concept, and nice attempt at an important gender parity story. It really does a lot to illuminate how venomous politics can be. It doesn't succeed in its primary goal, though it is a relatively entertaining political yarn with fine work from a majority of the cast. I don't really know if Rod Lurie got beneath the surface of the message he was sending, though. The movie retains exemplary control in every aspect but its ideology.
Drew Smith
Super Reviewer
The Contender Quotes
| | |
| --- | --- |
| Sen. Laine Hanson: | Principles only mean something if you stick by them when they are inconvenient. |
| | |
| --- | --- |
| President Jackson Evans: | It's pretty easy getting over things when you win. |
| | |
| --- | --- |
| President Jackson Evans: | Right from the start I should've come down her, pointed a finger your way..... pointed a finger your way... and asked you, "have you no decency sir?" |
| President Jackson Evans: | Right from the start I should've come down her, pointed a finger your way... pointed a finger your way... and asked you, 'have you no decency sir?' |