The Ladies Man
(2000)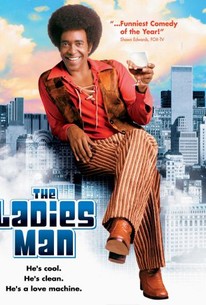 TOMATOMETER
AUDIENCE SCORE
Critic Consensus: The Ladies Man joins the growing list of mediocre movies based on SNL skits. It just doesn't have enough material to last the length of the movie.
Movie Info
Leon Phelps is the grooviest, smooth-talking woman chaser around. Known suitably to all as The Ladies Man, Leon hosts a popular late-night radio call-in show dispensing advice on affairs of the heart. After hundreds and thousands of conquests, Leon is the self-proclaimed expert on.. the ladies. After being ejected from his job for one too many vulgar and inappropriate comments, he unsuccessfully seeks employment from every radio station in Chicago. Out of options, Leon receives a mysterious letter from his "True love" asking him to return to her - and her money! Problem solved. All Leon has to do is figure out who she is. While he actively backtracks through his book of ladies, a posse of scorned husbands band together to hunt down the mysterious lover of their wives.
Critic Reviews for The Ladies Man
Audience Reviews for The Ladies Man
The Ladies is not an excellent comedy by any means, but it definitely isn't the worst. I think the film is a bit underrated, and though I agree it's not an excellent comedy, it still is a fun, entertaining mindless film that has a few good laughs throughout the film. This is not a perfect film, but it has its moments. If you're looking for mindless comic relief, then The Ladies Man is that film. The jokes are comical, nothing ever too hilarious, but it will manage to get a few chuckles out of you. The cast is decent, nothing ever good. I thought some parts of the film were weak, but for the most part the film was a lot of fun to watch. This is one of those comedies that you have to shut your mind off in order to enjoy. Sure the film is crude and all, but there's just something about the film that makes it a fun viewing experience. I've seen worst comedies than this, and The Ladies Man isn't one of them. This a funny film that is quite underrated, though some jokes were stale; for the part I laughed and I enjoyed myself watching it. The people that stand out in the film is of course Tim Meadows as the Ladies Man/Leon Phelps, and he brings a funny, quirky style to the role. Another who stands out is Will Ferrell, he really is funny here, and he is perfect for the character he plays. The Ladies Man is mindless fun, if you're looking for a good little film, then this is a worthy viewing. Fun and dumb, the perfect film to watch with friends.
½
one of the 2 or 3 funniest movies ever made, but just too crude to justify
This movie was a lot of fun. I liked Tim Meadows' "Ladies Man" character.
Lafe Fredbjornson
Super Reviewer
The Ladies Man Quotes
| | |
| --- | --- |
| Leon Phelps: | Ya know, when a man works hard his entire life doing hundreds of ladies, many of whom he don't even remember you'd like to think that at the end of the day he will be given a lot of money, without having had to earn it. |