Bedazzled
(2000)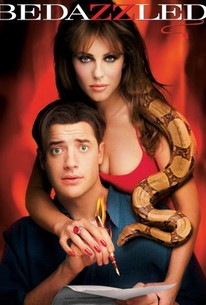 Movie Info
How far will a man go to win the woman he loves? That's the devilish question behind this satirical romantic comedy. Elliot Richards (Brendan Fraser), a low-level white-collar worker, has fallen in love with his co-worker Allison (Frances O'Connor), who barely knows he exists. Desperate to win her love, sad sack Elliot is approached by the Devil (Elizabeth Hurley), who offers him seven wishes in exchange for his soul. Elliot accepts, but none of his wishes works out quite the way that he had hoped; after transforming himself into a South American tycoon, a champion NBA basketball player, a famous author, the most sensitive man in the world, and even the president of the United States, Elliot discovers that the Devil has added a crucial loophole each time, and for all his troubles, Allison still isn't interested in him. Directed by Harold Ramis, Bedazzled was adapted from the 1968 cult movie of the same name written by and starring Peter Cook and Dudley Moore. ~ Mark Deming, Rovi
Critic Reviews for Bedazzled
Audience Reviews for Bedazzled
½
Lame-o remake. Why? It's not the stars' fault as they are trying to deliver. This one I fault a) the script - so much potentially evil, snide fun passed by in order to be safe and middle-of-the-road. b) the casting director - simply the wrong choices as the leads and finally, c) the director, Harold Ramis, who could've watched the first version and used new and better tech to deliver a truly conniving, wicked demon (ala Al Pacino - its a lot to ask but still), upped the ante some, which'd've improved the comedy. Stick with the first one instead.
Kevin M. Williams
Super Reviewer
Yeah, it's crap, but it's light and (mostly) entertaining. Brendan Fraser is likeable. Can't stand Liz Hurley, but have to admit she is attractive here and love some of her outfits. Not a bad comedy.
Nicki Marie
Super Reviewer
Without Brendan Fraser playing all of his wacky characters in his "Wish Universes," the movie would have fallen flat on it's face, but his acting, along with some funny moments are really all the film has going for it. Once the first half concludes, we keep getting more of the same until the "touchy-feely" type of moments pass before the credits role. The direction the film takes is fine, the character arches are all present, the acting is fine, and the premise, albeit ridiculous, is acceptable. I could think of a million comedies to watch before this, but there wasn't anything that I hated about it. It's a shrug your shoulders and walk away type of film! "Bedazzled" is fine television substance!