Nuremberg
(2000)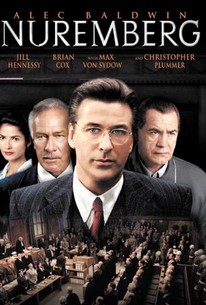 AUDIENCE SCORE
Critic Consensus: No consensus yet.
Movie Info
This TNT miniseries stars Alec Baldwin as Robert Jackson, the Supreme Court justice who served as the head prosecutor for the war crimes tribunal that took place in Nuremberg after the horrors of WWII and the Holocaust. The film follows Jackson from his preparations for the trial to the outcome of the trial itself, paying particular attention to the interplay between Jackson and the Nazi thugs he is trying to prosecute. Brian Cox co-stars a Hermann Goering, Hitler's right-hand man, while Christopher Plummer plays British prosecutor Sir David Maxwell-Fyfe, and Jill Hennessey portrays Elise Douglas, Jackson's invaluable secretary and sometime lover.
Critic Reviews for Nuremberg
All Critics (4) | Top Critics (1) | Fresh (3) | Rotten (1) | DVD (1)
Still, both Nuremberg, the mini-series, and Judgment, the equally long Hollywood movie, are star turns for actors as monsters and actors as victims.
A searing performance by Brian Cox gets doused by a bucket of shameless moralizing too tepid for TV.
August 3, 2002 | Rating: 2/5
Audience Reviews for Nuremberg
Average made for TV film about the Nuremberg trials; this film extends to about a four hours, and portrays the trial in a way that just seems out of place. What I mean by that, is that, instead of focusing on the historical aspect head on, the filmmakers tried to over saturate the film's material, and therefore try to make it more dramatic than it needs to be. I really don't think that this is the definitive on the Nuremberg trial. I thought the film's script lacked and despite its terrific subject, this is a forgettable made for TV drama that never realizes its potential. The film just has too many over dramatic moments to make for a truly great film. I believe that if the script would have been better thought, then Nuremberg would have succeeded at being a very good Made for TV film. However, with these results on-screen, this is standard made for TV fair, and there are aspects of the film that I found questionable and I thought that the film could have been shorter as well. The story is pretty good and cast are good, but there are clearly aspects of the film that could have been improved upon. The Nuremberg trials has been the subject of numerous films and documentaries, but this one is one of the weaker one, as it tries to be an ambitious film, but it doesn't have the means to deliver on its historical subject. Despite the film's many imperfections, Adam Baldwin and Brian Cox save this film from being a total; misfire. This film could have been great, however it's confined to the small screen, which doesn't let the film to really shine through, therefore the scope of the project suffers and the results are underwhelming despite its highly interesting historical subject.
Made for tv miniseries...Really good portrayal of a very important historical event from humanitarian, and legal perspectives. Great actors. Not an Oscar winning drama, but definitely a very decent attempt....
Cynthia S.
Super Reviewer
This is a great movie. Really interesting and excellent acting. If you find the Nazis and WW2 interesting then you will love this one.
Jason Stratford
Super Reviewer
Nuremberg Quotes
There are no approved quotes yet for this movie.