Nattevagten (Nightwatch)
(1994)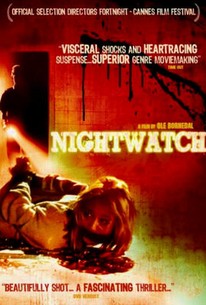 Nattevagten (Nightwatch) Photos
Movie Info
The debut feature from Danish director Ole Bornedal, Nattevagten is a psychological thriller starring Nikolaj Coster-Waldau. While a serial killer is on the loose, brutally murdering several prostitutes, college-student Martin (Coster-Waldau) takes a job as the night watchman at the local mortuary in order to pay his law-school tuition. As it turns out, the bodies of the victims are being stored at that very mortuary. When Martin takes a bet that involves tampering with the bodies, he suddenly finds himself a suspect in the case. Bordenal, who also wrote the script, later remade Nattevagten in Hollywood under the title Nightwatch. ~ Matthew Tobey, Rovi
Critic Reviews for Nattevagten (Nightwatch)
All Critics (5) | Fresh (3) | Rotten (2) | DVD (2)
Nightwatch is a captivating thriller that ratchets up the tension from its opening moments, Ole Bornedal knows how to get the maximum thrills from his simple set-up.
A lot of the shocks were new, the acting was above average, and director Ole Bornedal had me by the short hairs, both dreading and anticipating each new twist.
Audience Reviews for Nattevagten (Nightwatch)
the premise and setting are ideal for suspense but the tone, although its dark humor is affable, is inconsistent, and leads to an accommodating finale.
Pierluigi Puccini
Super Reviewer
½
Influential Danish thriller. A student gets a night job in the local morgue and if this isn't a creepy enough job, someone is murdering prostitues. The students friend is a bit of a nutcase who likes to push things to far which puts him in the frame straight away but with some twists and turns along the way, Nightwatch keeps you glued to the screen throughout with some great tension and black comedy also thrown in. A possible influence on the likes of Seven, this is a decent thriller despite looking a bit dated. I wasn't keen on theending either! Still, worth checking out.
½
"Nightwatch" is a decent Danish horror/suspense movie. The atmosphere of the morgue is interesting, and there are some suspenseful moments but despite the interesting story the narrative was poor and there aren't enough suspects to go around turning the movie pretty predictable.
Nattevagten (Nightwatch) Quotes
There are no approved quotes yet for this movie.