A Performance of Macbeth
(1978)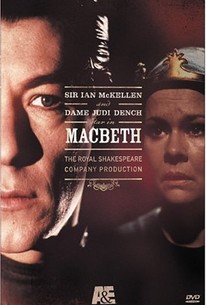 AUDIENCE SCORE
Critic Consensus: No consensus yet.
Movie Info
This 1976 Royal Shakespeare Company production of Macbeth was originally broadcast on Thames Television in 1978. The company's artistic director Trevor Dunn directs the cast on a small bare stage with mostly black costumes and minimal props. After the witches (Susan Dury, Judith Harte, Marie Kean) announce the prophecy that Macbeth (Ian McKellen) will be the next king, the elderly King Duncan (Griffith Jones) proclaims that his son, Malcolm (Roger Rees), will be heir to the throne. Lady Macbeth (Judi Dench) learns about the witches' prophecy in a letter, prompting he to ask the gods to remove her femininity so she can make her weak husband kill the king. When Duncan comes to visit Macbeth's castle, he is murdered in his sleep. Macbeth kills the guards, claiming they were the murderers. In fear of their own lives, Duncan's sons flee the country and Macbeth is crowned King of Scotland. Riddled with guilt, Macbeth goes mad and sees horrible visions while the witches announce the prophecy of his downfall. Also starring John Woodvine as Banquo, Ian McDiarmid as the porter, and Bob Peck as Macduff. ~ Andrea LeVasseur, Rovi
Critic Reviews for A Performance of Macbeth
Audience Reviews for A Performance of Macbeth
Macbeth(Ian McKellen) and Banquo(John Woodvine) are on their way back from a victory when they encounter three odd women(Marie Kean, Judith Harte & Susan Dury) in the forest who inform them that even bigger things are in store for them and their offspring, like Macbeth becoming king and the same for Banquo's lineage. They laugh this off until they find out that one of the predictions has come true in their absence. When Macbeth tells his wife(Judi Dench) about this, she responds that there is no time like the present, what with good King Duncan(Griffith Jones) coming to visit. Yes, this is little more than a filmed performance of the Scottish Play, handicapped by the primitive effects of the time. But even then, this staging makes very good work out of its minimalism to give an eerie and expressionistic look to the proceedings that with one exception are decidedly monochromatic. With close-ups endemic to television, this forces the viewer in a position not to be spared from the carnage. And embodying that madness are the great Ian McKellen and Judi Dench at the top of their game.
A Performance of Macbeth Quotes
There are no approved quotes yet for this movie.