Attila
(2001)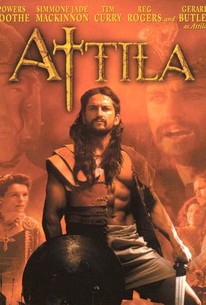 AUDIENCE SCORE
Critic Consensus: No consensus yet.
Movie Info
Attila the Hun, fabled leader of a band of nomadic warriors who fearlessly took on the might of the Roman Empire, has his life story brought to the screen in this two-part miniseries. Attila (Gerard Butler) raised an army from the people of Caspia, and in time created a fighting force so strong that they received an annual tribute from the leaders of Rome as an inducement not to attack. Not all Romans were happy with this situation, and in time it was decided that General Aetius (Powers Boothe), a brave yet unscrupulous leader who attempted to usurp the rule of Empress Placidia (Alice Krige), was the only man who could confront Attila on his own terms. Aetius recognized Attila's skills as a leader, and decided the best way to prevent him from invading Rome was to lead him into an alliance, as Rome and the Huns joined forces against a third nation. But despite their mutual respect, it soon became apparent that only one man could be the undisputed leader in a meeting between Rome and the Huns. Attila also features Tim Curry as Theodosius, Simmone Jade MacKinnon as N'Kara, and Reg Rogers as Valentinian. Attila was first aired on the USA Cable Network on January 30 and 31, 2001.
Audience Reviews for Attila
Gerard Butler and Powers Boothe, first friends then enemies, drive this biopic that serves as a history lesson really about a name far more popular and remembered than the deeds of this larger than life bloodthirsty character. For a television production its values are quite good if whitewashed. Attila is portrayed as the guy next door driven to unusual lengths by the acts of others in this telling, and not the ambition driven dynamo that history usually paints him as. Butler just manages to keep his head above water with the requirements the acting job makes on him, while Powers Boothe comes across as the real star of the show, a malevolent spider with his sticky claws in everything and he holds the thing together. Learn about the start of the Dark Ages, why not?
Kevin M. Williams
Super Reviewer
Made-for-TV quality. The famous Gerard Butler doesn't really shine. I'm still not convinced it was really him....
Christian C
Super Reviewer
½
Attila the film is a biopic of a great Hun who was a shrewd tactician who cared deeply about the welfare of his people, genuinely believed his conquered subjects were better off under him, and therefore strived to rule with justice. Rollo Weeks was only in the very beginning of the movie as young Attila, but his acting was wonderful! I viewed Attila because I wanted to see more of Gerard Butler THE ACTOR and I was not disappointed. The adult Attila played by Butler, was quite good at capturing Attila's warlike side and his more cerebral, introspective side. This fantastic Scottish rogue was captivating and so gorgeously handsome that it was a little difficult to pay attention to his acting when all I could think of is his good looks and what was under his armor. And those eyes wow!!!!! Nevertheless I got to learn more about a historical figure who always intrigued me. The screenplay shows his respect to the great Roman strategist Flavius Aetius magnificently played by Powers Boothe who used his mind as primary weapon and his influence as power combined with an almost Machiavellian ruthlessness. I also liked Pauline Lynch as Galen the witch. The look she gives him after teasing him about the feisty red-haired woman is so poignant. I feel like her. 'Here's this amazing guy that will never notice me, the crazy toadstool'.
Attila Quotes
| | |
| --- | --- |
| Attila: | You Romans play with kings and nations as a child plays with toys. |
| Flavius Aetius: | I go back to Rome soon. Come with me, and learn how the world is ruled. Find out if Rome really does play with nations as though they were toys. There is no-one like you in Rome, and no-one like me here. You and I can do great things together |
| Attila: | If we don't kill each other first. |
| | |
| --- | --- |
| Flavius Aetius: | Civilized men are easy to conquer, but civilization still belongs to the civilized, not the barbarians. |
| Attila: | It belongs to whoever is strong enough to take it. |
| | |
| --- | --- |
| Attila: | Trickery and deceit. That is the way of the Romans, not of the Huns. |
| Flavius Aetius: | Yes, but which way rules the world? |
| | |
| --- | --- |
| Attila: | I thought that the War God had refused me a sign, but I was wrong. What better sign than an enemy prepared to fight? |