The Brothers
(2001)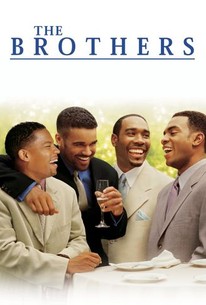 TOMATOMETER
AUDIENCE SCORE
Critic Consensus: Often seen as a Waiting to Exhale with men, The Brothers is amiable. However, it feels superficial and somewhat of a retread.
Movie Info
Four successful men find themselves easing into long-term relationships, but they're not all that comfortable about it, in this intelligent comedy-drama. Terry (Shemar Moore), Jackson (Morris Chestnut), Brian (Bill Bellamy), and Derrick (D.L. Hughley) are four close friends who get together once a week to play basketball and compare notes on their problems with women. And as it turns out, they have a lot to say in that area. Terry has just gotten engaged to BeBe (Susan Dalian), who is more than a bit controlling. Jackson has a deep fear of commitment, symbolized by a recurring dream in which he's attacked by women wearing wedding gowns; what's more, he's started seeing Denise (Gabrielle Union), who he learns once had a fling with his dad (Clifton Powell). Brian is a lawyer who has discovered his next court date will see him pleading a case in front of a judge who used to be his girlfriend (Angelle Brooks). And Derrick's marriage to Sheila (Tamala Jones) is falling apart at the seams. The Brothers also features one-time Jeffersons regular Marla Gibbs, and Jennifer Lewis as Jackson's mother, who may be giving his father a second chance after many years apart.
Critic Reviews for The Brothers
Audience Reviews for The Brothers
½
I don't think you'll see movies like this anymore--a film about black brotherhood and the trials of their lives (especially love lives). The market so far is flooded with "he ain't no good" films by Tyler Perry (and sometimes diamond in the rough films) or gangster films full of violence and an absence of positive black female characters. This film was like a black male version of the Sex and the City, obviously made for female viewers. It was entertaining and endearing during its time though feels dated watching it now. If it came on television again years later, I can't say I wouldn't sit down for a dose of nostalgia though.
Remi Logan
Super Reviewer
Joseph Eastmond
Super Reviewer
I happened across this on TV, and it was interesting enough to watch to the end. There is something about a movie where four good friends get together every so often to play basketball and figure out what is going on with their relationships.
The Brothers Quotes
There are no approved quotes yet for this movie.