Brother
(2001)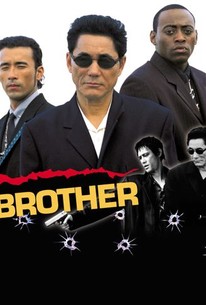 Movie Info
When Yakuza gangster Yamamoto is forcibly retired from his clan after a hostile takeover, he flies from Tokyo to Los Angeles to find his younger half brother Ken, whom he believes he has been financing through college. When he finds that Ken has dropped out of school to run a sloppy drug-dealing operation with his buddy Danny, Yamamoto slaps him on the back of the head in disgust, then shows the motley crew how to take over the LA underworld, Yakuza style. In the most violent ways imaginable, Yamamoto transforms the ragtag gang into a styling posse of professional punishers and schools them in a kamikaze code of honor that puts all other forms of gang bonding to shame.
Critic Reviews for Brother
Audience Reviews for Brother
½
When an uncompromising Yakuza leaves Japan to prevent the ignition of a gang war, he joins his brother, a small time drug dealer in America and shocks both his friends and enemies with his ruthless brutality. But when their fledgling organization reaches the attention of the mafia, the cycle of violence soon spirals out of control. Kiteshi Kitano's culture clash gangster movie has the unlikely friendship between his stone-faced and laconic Yakuza and wisecracking petty hustler Omar Epps at it's core, punctuated by explosive bursts of visceral action. It contains his trademark humour, "gangsters at play" and simple yet beautiful direction that relies on stoic imagery and composition rather than the endless dolly shots and pointless colour filters that seem to plague modern cinema. One minor gripe is that Takeshi clearly tempered his vision for the sake of American audiences and his usual uncompromising nihilism is diluted to provide a (semi) happy ending. Not his best, but the familiar US settings and English dialogue make Brother the perfect entry point for anyone unfamiliar with Beat Takeshi's work.
½
If you don't know Beat Takeshi let me explain; He's a different type of badass. He doesn't have great karate skills or runs around hanging from helicopters and jumping away from explosions in slow motion and what not. Even without a language barrier, he doesn't say much, so he's not really a tough talker. Doesn't even bother trying to look tough. He mostly sits there in sunglasses with an indecipherable look on his face, as if smiling at something...but you're not sure what. When he removes his sunglasses, his eyes are a total blank, so they don't really help at all. He's somewhat a friendly, joking kind of guy, like a friendly old neighbor, but he's also really good at punching you in the kidney with a knife, or hiding guns in places so he can pop them out and shoot a room full of people before they can think what to do. While some people might argue that this film is too commercial and lacks the artistic value of other films I'd later see from the director, what has not changed is Kitano's love in exploring the complexity of human choice under extreme condition. The film has a charm all its' own and would be an ideal place to start if curious about the world of Takeshi Kitano as he points towards a new direction for the yakuza genre.
El Hombre Invisible
Super Reviewer
Takeshi Kitano creates a peculiar, paused, funny, highly violent but somewhat touching clash between the eastern and western underworld.
Pierluigi Puccini
Super Reviewer
Brother Quotes
There are no approved quotes yet for this movie.