Evolution
(2001)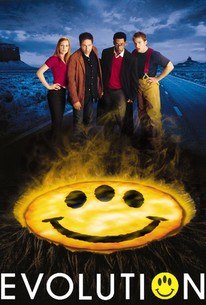 TOMATOMETER
AUDIENCE SCORE
Critic Consensus: Director Reitman tries to remake Ghostbusters, but his efforts are largely unsuccessful because the movie has too many comedic misfires.
Movie Info
The spirit of the mega-hit Ghostbusters (1984) is intentionally recalled with this effects-heavy sci-fi comedy from the same director, Ivan Reitman, co-starring Dan Aykroyd and debuting on the 17th anniversary of the earlier film's release. When a meteor bearing single-celled organisms crashes to the Earth, the life forms are initially confined to a cave. Before long the creatures are evolving at an exponentially rapid rate, resulting in fearsome aliens running amok and possibly spelling mankind's doom, or at least the end of man's domination over life on Earth. Investigating the phenomenon is a community college professor, Ira Kane (David Duchovny), his geologist friend Harry Block (Orlando Jones), wannabe fireman Wayne Green (Seann William Scott), and government scientist Allison Reed (Julianne Moore). Evolution also stars Ted Levine, Ethan Suplee, and Katharine Towne.
News & Interviews for Evolution
Critic Reviews for Evolution
Audience Reviews for Evolution
½
Wayne Grey: Ka ka, ka ka! Kakaaa! Tukki Tukki! Tukki Tukki! Harry Block: Wayne, I think we've established that "Ka Ka" and "Tukki Tukki" don't work. Those lines always cracks me up!
½
Out of all the popcorn films I have seen recently Evolution has to be my favourite, It is by no means a completely original brilliant piece of cinema but it is a good fast paced comedy to sit back into and enjoy. Duchovny and Jones work well together and the film keeps you laughing throughout.
Cameron Sherwell
Super Reviewer
½
A terrible attempt to make a new Ghostbusters. Sometimes fun, but nothing good, silly gags, awful screenplay, Evolution is a weak try to do sucess again with comedy and sci-fi of Reitman. Rotten.
Lucas Martins
Super Reviewer
Evolution Quotes
There are no approved quotes yet for this movie.