The Fast and the Furious
(2001)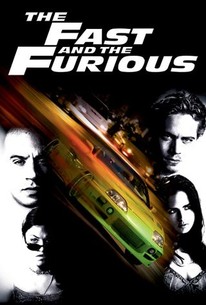 TOMATOMETER
AUDIENCE SCORE
Critic Consensus: Sleek and shiny on the surface, The Fast and the Furious recalls those cheesy teenage exploitation flicks of the 1950s.
The Fast and the Furious Videos
The Fast and the Furious Photos
Movie Info
A magazine article about real-life car racing gangs for Vibe becomes this fast-paced automotive thriller from director Rob Cohen. Paul Walker stars as Brian O'Conner, a youthful FBI agent investigating a series of hijackings by going undercover with a street gang led by charismatic Dominic Toretto (Vin Diesel). Caught up in Toretto's world of gang conflict that is resolved in late-night car races, Spindler starts to sympathize with his chief suspect and falls in love with Toretto's younger sister Mia (Jordana Brewster). In the meantime, Spindler initially suspects the wrong gang of complicity in the crimes he's probing, while Toretto remains involved in a forbidden romance, à la Romeo and Juliet, with his girlfriend Letty (Michelle Rodriguez). The Fast and the Furious co-stars Ted Levine, Rick Yune, and Matt Schulze. ~ Karl Williams, Rovi
Critic Reviews for The Fast and the Furious
Audience Reviews for The Fast and the Furious
½
One of the most overrated ridiculous franchises ever? well you get what you pay for right, you see the trailer, you see fast cars and slutty girls, you know what you're gonna get. Apart from the visuals, you see who directs this and you know not to expect a great deal, Rob Cohen...a low rent Michael Bay who makes trashy flashy CGI filled flicks. But who knew how far this would go, how long this dumb adventure would last and why is it so popular? I imagine it appeals to the young generation, fast cars, hot chicks and lots of huge stunts, I guess you could say its 'The Dukes of Hazzard' for the modern era. Unfortunately originality is not on the menu, the plot...a gang of fast car, street racing adrenaline junkies/petrol heads are hijacking trucks utilising their driving skills. Undercover cop infiltrates this street racing world posing as a fellow fast car petrol head to try and find out who is behind the hijackings. Wait a moment...a gang of surfer adrenaline junkies are robbing banks (although not utilising their surfing skills). An undercover cop infiltrates their surfer world posing as a fellow wannabe surfer to try and find out who is behind the robberies. Yep, this film is 'Point Break' but with cars instead of surf boards. None of it really makes any sense though, Toretto seems to own garages and a property yet never has any customers or does any work, yet he's clearly loaded. He owns an array of cars that are all worth a fortune, all heavily modded and would cost loads to maintain and insure yet he treats them as if they were meaningless and crashes them left right n centre. Money seems to be no object to the characters in this film, oh I just smashed up my Mitsubishi with about 20K worth of modifications to it, oh well I'll just turn up in the next scene with another. Oh my Dodge Charger means everything to me cos me and my dad built it and put tonnes of money n love into it...meh I'll just race it against a train, no worries. Its also amusing how all the street racers drive around in car posses, taking up the entire road, yeah like that wouldn't attract the police. Oh and the police clearly have trouble catching these guys and their cars, OK, well why not drive around the suburbs and look for the houses with top line modded Jap cars parked outside. Yes they park their illegal fast cars in the street outside their abodes...oh dear. Now as I said you can't expect much from this film, its clearly style over substance, half the film is merely imagery of car porn and scantily clad ladies hanging around next to them. The acting is hilariously bad from everybody, I've haven't seen so much posing, swaggering, hardman attitudes and general showing off for a long time, (usually reserved for gangsta hoodie type flicks). Hordes of wannabes crowd around the main actors in the street race scenes all looking desperate to get on camera for five seconds...and its obvious. All the young super slim females look stunningly sexy (err kids film?) yet have no clue what on earth is going on, oh and then we have a sweaty looking Michelle Rodriguez...yikes! Despite all the high fives and god awful bling the main crux of the film, the cars, is pretty sweet. If you are into cars such as myself then its fun purely for that, if you like Japanese super saloons then even more so. Take note kids this is about fast cars, no BMW's, Mercs or Audi's required. This is probably the only area of the film which is remotely interesting, there is a really good range of modified Jap cars here and not just top line models either, some nice retro gear. Of course this is a Cohen film so there has to be a bit of CGI in there somewhere, blasting through the engine as it ignites, not a bad idea but it looks hokey. The sequences where they hijack these big rigs are stupid, they don't make much sense, why not just stop the thing? The finale is even dumber, again just stop the truck! or shoot out its tyres maybe geez! Everything is naturally predictable and cheesy, plenty of tight vests, muscles and tattoo's. Vin Diesel shouts a lot, Rodriguez scowls a lot and Walker does his best Keanu Reeves impression. All this and hardly any guns in sight! that's because its a watered down action thriller folks. The big crash stunt at the very end involving Vin Diesel and his souped up Dodge Charger is admittedly very cool, best little sequence in the film really...I had to watch all this just for that?! Well...the scene where they smoke the Ferrari had me smiling, Italian rubbish!
Phil Hubbs
Super Reviewer
½
Original, creative, and very watchable thanks to a commanding performance by Vin Diesel. Its flashy entertainment and sometimes a bit TOO flashy, but never uninteresting.
Dan Schultz
Super Reviewer
I would prefer plugging this high speed action film to those interested in cars, but due to the recent loss of my friend Paul Walker, it has become quite sad to me. His role in this series of films(Brian O'Connor) is what he's known most for, but I do wish he had landed the role of Anakin Skywalker in the Star Wars pre-quels that he wanted more than anything. One thing I know for sure is that he is a Skywalker and undoubtedly one of God's best angels. His charitable work is a big part of who he was, and he was not afraid to help those in need even if it meant he was doing much of the physical labor himself. There is a great silence in the Force indeed.
The Fast and the Furious Quotes
| | |
| --- | --- |
| Dominic Toretto: | I said a ten second car not a ten minute car! |
| Brian O'Conner: | No Faith? |
| Dominic Toretto: | Oh, I have faith in you but this isnt a junkyard, it's a garage! |
| | |
| --- | --- |
| Leon: | Heads up bro,we got problems. |
| Dominic Toretto: | What? |
| Leon: | Jesse. |
| Dominic Toretto: | Where is Jesse goin' |