The Road Home (Wo de fu qin mu qin)
(2001)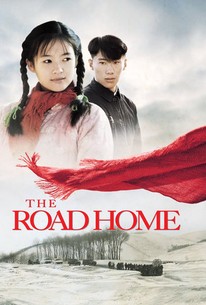 The Road Home (Wo de fu qin mu qin) Photos
Movie Info
City businessman Luo Yusheng returns to his home village in North China for the funeral of his father, the village teacher. He finds his elderly mother insisting that all the traditional burial customs be observed, despite the fact that times have changed so much. Yusheng realizes that his mother's wishes must be respected. On the day of the funural more than one hundred of Changyu's former pupils turn up to carry the coffin - and none of them will accept payment. Before returning to the city, Yusheng symbolically honors his father's dearest wish: He spends one day teaching in the village school.
Critic Reviews for The Road Home (Wo de fu qin mu qin)
Audience Reviews for The Road Home (Wo de fu qin mu qin)
Finally got round to watching this 15-year-old film. Very touching, well-directed, sumptuously filmed story of young love. If you are tired of seeing Chinese films that bring out the worst in people (corruption, abuse of power, greed, injustice), then you should watch this. I found the plot of The Story of Qiu Ju???????a bit more interesting though, but The Road Home is more beautiful to watch. Zhang Ziyi is very lovable here.
Letitia Lew
Super Reviewer
A really sweet, heartwarming, simple sort of love story. Chinese mysticism meets Hans Christian Anderson sugar. Reminds me of my road home.
Jennifer Xu
Super Reviewer
½
A true Romantic Film Here might even be considered a Chick Flick by some. Its about a man in China who is called home to bury his father, who was the village school teacher, so begins the novel as to how he met the man's mother who was a village girl who fell in love with the teacher at first sight. Not the typical American Love story, its better then that. Got to give it 5 Stars,
Bruce Bruce
Super Reviewer
The Road Home (Wo de fu qin mu qin) Quotes
There are no approved quotes yet for this movie.