Heist
(2001)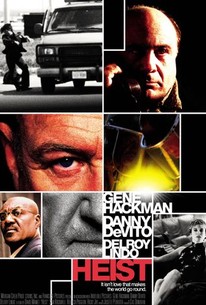 Movie Info
Joe Moore has a beautiful young wife, money owed to him and a job he loves. He's a thief. His job goes sour when he gets caught on security camera tape. His fence, Bergman, reneges on the money he's owed and his wife may be betraying him with the fence's young lieutenant. Moore, his partner Bobby Blane and their utility man, Pinky Pincus, find themselves broke, betrayed and blackmailed. Moore is forced to commit his crew to do Bergman's one last big job. Will Bergman shop Moore to the police? Will Moore's wife trade him in for a younger model? Will Blane and Pincus cut their losses and get out? Who is to be believed, who is to be betrayed? Won't someone who's lied once lie again? Who's going to walk away smiling and who's not going to walk at all?
Audience Reviews for Heist
A watchable Heist film, but not a particularly exciting one. The plot was full of little twists, but most of them predictable and for me this film brought nothing new to films sharing this theme.
Lady D'arbanville
Super Reviewer
½
It's pure dynamite. Sizzeling and exhilerating. A razor-sharp crime thriller. One of the best and smartest heist films ever made. Snaps and crackels with great suspense and action. awsome twist and turns all the way to the end. Terifficly written and well-crafted. A brilliant cast of actors. Gene Hackman has never been better. A cool, captivating and fantastic performance. Delroy Lindo is teriffic. Danny DeVito is explosive.
Curtis Lilly
Super Reviewer
Heist Quotes
There are no approved quotes yet for this movie.