The Others
(2001)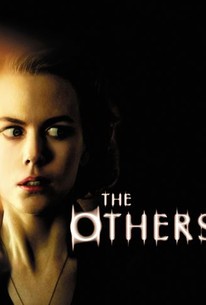 TOMATOMETER
AUDIENCE SCORE
Critic Consensus: The Others is a spooky thriller that reminds us that a movie doesn't need expensive special effects to be creepy.
Movie Info
On the secluded Isle of Jersey in the final days of World War II, a young woman waits in vain for her beloved husband to return from the front. Grace has been raising her two young children alone in her beautiful, cavernous Victorian mansion, the one place she believes them to be safe. But they are not safe. Not anymore. When a new trio of servants arrives to replace the crew that inexplicably disappeared, startling events begin to unfold. Grace's daughter reveals she has been communicating with unexplained apparitions that come and go in every room of the house. At first, Grace refuses to believe in her children's scary sightings, but soon, she too begins to sense that intruders are at large. Who are these numinous trespassers? And what do they want from Grace's family? In order to discover the truth, Grace must abandon all of her fears and beliefs and enter the otherworldly heart of the supernatural.
Critic Reviews for The Others
Audience Reviews for The Others
Its retro editing and camerawork, as well as its spooky-good, classical frights and twists provide for a hauntingly stunning story. The Others displays a convincing Nicole Kidman along with the thrills and chills of a complex narrative that's even heartfelt at times, yet still exemplary for the horror genre. 4/5
Eugene Bernabe
Super Reviewer
Steeped in mood and ominous forebodings here is horror of the old school. Without humongous kitchen knives or weird masked killers or buckets of gory bloodletting, but only the growing sense of "something's wrong, something doesn't feel right, and I don't know what it is". Remember the creepy wonder you felt as a child ... wondering what was out there in the dark ... that terrible anticipation combined with dread, and you'll know what this film delivers.
Kevin M. Williams
Super Reviewer
½
This stylish, gothic, period ghost story marked the first English-language film for director (and writer, and composer) Alejandro Amenabar. Set on an isolated island in the immediate aftermath of World War II, the film focuses on a very devout woman whose two children suffer from a (real) disorder that causes them to be highly sensitive to sunlight. Longing for her husband who left to be in the war years earlier, the lady and her kids try to adjust to the addition of a new housekeeping staff in their dim, spooky mansion after the disappearance of the old staff. To complicate matters, the family is under the belief that their home is haunted. While the general story (and the ending especially) aren't the most original ideas, the film is still a fairly well crafted thriller. It's anchored by some solid performances, especially from Nicole Kidman, and it has some top notch cinematography and sound design/editing, which really add to the appropriately dreary mood, tone, and atmosphere of things. Of course, I expected a film that features light/dark as a main component to have fine cinematography. The film is a slow burner, and somewhat telegraphed/predictable, but it's still an enjoyable ride while it lasts. I also appreciate how the film doesn't really resort to the visceral in order to elicit shocks and scares, even though I do like a good bloodbath on occasion. All in all, it's decent, and would probably please those who like slow burning chillers, and anyone who goes nuts for Hitchcock, specifically what he did with Rebecca.
Chris Weber
Super Reviewer
The Others Quotes
| | |
| --- | --- |
| Grace: | (crying) Leave us in peace! |
| Grace: | Leave us in peace! |
| | |
| --- | --- |
| Grace: | Where is my daughter? |
| Anne: | Are you mad? I am your daughter. |