Hamlet
(1990)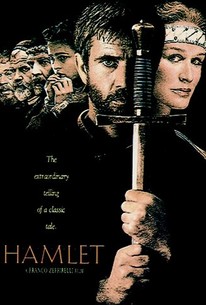 TOMATOMETER
AUDIENCE SCORE
Critic Consensus: It may lack some of the depth and complexity of the play, but Mel Gibson and Franco Zeffirelli make a surprisingly successful team.
Movie Info
Franco Zeffirelli directs his third Shakespeare adaptation (after Romeo and Juliet and Otello) with this film version of the tragedy +Hamlet. The titular prince of Denmark (Mel Gibson), returns home to his family's castle of Elsinore after years of attending school in Germany to find out his father has died and his uncle Claudius (Alan Bates) is the new king. To make matters worse, Claudius has married Hamlet's mother, Queen Gertrude (Glenn Close), whom he has unusually strong feelings for. Hamlet is visited by his father's ghost (Paul Scofield), who asks him to seek revenge for his murder. In order to find out who the real killer is, Hamlet stages a theatrical scene resembling his father's death. Claudius is upset by the production and leaves to arrange for Hamlet's murder. In the ensuing confusion, Hamlet accidentally kills Polonious (Ian Holm) instead of Claudius; Hamlet's lover, Ophelia (Helena Bonham Carter), goes mad and commits suicide; and eventually Hamlet and Claudius both meet their fate.
News & Interviews for Hamlet
Critic Reviews for Hamlet
Audience Reviews for Hamlet
This is a very faithful, even if exaggerated attempt to recreate a shakespearean play, centuries after the material. After the good, but less faithful DiCaprio version of Romeo and Juliet, Mel Gibson tries his luck at playing the Prince in "Hamlet." I must say that I am thoroughly impressed with the outcome of this film. It stays true to most of the originally scripted playwrights and tries to cover new grounds in making it a feature-length film. The pacing is a little slow at times, but I accepted it, because that is how the play already is. Some of the dialogue seems to make fun of shakespearean language which makes a few scenes a little uneven, but the entire story is present and I had a great time watching it. "Hamlet (1990" is a great film!
Hamlet: The play's the thing, wherein I'll catch the conscience of the king.  "Shakespeare's classic tale of vengeance and tragedy." I'm not a huge fan of Shakespeare, when it comes to the movie adaptions or just the original plays, but I can enjoy a well made Shakespeare adaption from time to time. The only two I've seen that I've liked are both from Zefferelli. He made the ultimate classic, Romeo and Juliet and then his version of Hamlet was pretty good as well. It is the only version I have seen, so I have nothing to compare it to. Still, while I can appreciate this movie, I still can't fully say I like because it just isn't to my taste. There's really no reason going over plot because everyone knows the plot before going in. Mel Gibson does do a pretty good job as Hamlet. His soliloquies are pretty good and most of the time when I see an actor do a soliloquy, I want to kill myself. This has all the necessary and annoying elements that come along with Shakespeare. It's overly dramatic and its acting is way over the top in the drama department as well. But that just comes with the territory. Glenn Close and Helena Bonham Carter were also good in their respected roles as Gertrude and Ophelia.  Going in you should probably know if this movie is for you or not. Shakespeare fans should adore it, although I guess some of the previous ones are considered better. People who hate Shakespeare will hate it. As far as the few adaptions I've seen of Shakespeare, this would have to be my second favorite. The major scenes of Hamlet are well done, so that in itself makes the movie worth a look.
Melvin White
Super Reviewer
½
I think this is one of the better versions of Hamlet particularly because of two aspects: Mel Gibson and Helena Bonham Carter. I absolutely think Gibson gives the best "to be or not to be" speech in all the Hamlet adaptations I've seen. Also, I think he portrayed Hamlet as he truly is with all his broodiness and internal conflicts effectively played out. Bonham Carter is certainly a convincing Ophelia. I didn't particularly care for the angle they gave between Hamlet and his mother, Gertrude (played by Glenn Close). It also cut a lot from the source material, which I didn't particularly like either.
Hamlet Quotes
There are no approved quotes yet for this movie.