Texas Rangers
(2001)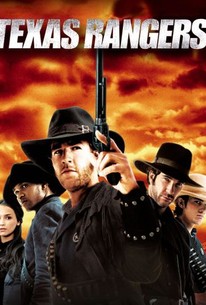 Movie Info
The true story of the formation of the Texas Rangers provides the backdrop for this youth-oriented Western. In 1875, after the Civil War, Leander McNelly (Dylan McDermott) organizes the Texas Rangers to battle the outlaws terrorizing Texas, notably crime kingpin John King Fisher (Alfred Molina). With a team of experienced gunmen (Robert Patrick and Randy Travis) and enthusiastic but green recruits (James Van Der Beek, Usher Raymond, and Ashton Kutcher), McNelly and his Rangers bring law and order to the wild Texas plains; McNelly must also keep order among his charges when two rangers fall in love with the same woman, Caroline Dukes (Rachael Leigh Cook). Tom Skerritt and Vincent Spano are also featured in the supporting cast; the screenplay, adapted from a script by John Milius, was at one time set to be filmed by Sam Peckinpah, shortly before the legendary Western director's death in 1984.
News & Interviews for Texas Rangers
Critic Reviews for Texas Rangers
Audience Reviews for Texas Rangers
This was a very poor film, and vanished into the abyss for good reason. When Van Der Beek dives at the villain in those final scenes, I was laughing at how bad this film was. They don't even treat the film as a Young Guns for the new generation. Miner floods the film with talented actors, but not one of them is memorable. Why did they chose Steve Miner to direct this film? I personally would have preferred John Milius as the filmmaker, who is a gifted filmmaker. This failed miserably for good reason, poor choices and zero respect to the genre. I don't believe the budget was as high as shown, it feels like a Tv movie. When you see the Weinstein's name on the credits, you know this will be hit or miss, no real middle ground for them. 15/01/2019.
Brendan O'Connor
Super Reviewer
When I seen 'Dawson' from Dawson's Creek & Ashton Kutcher in a western I thought there was no way that this would be good. Not that I don't enjoy both of those guys and think they are good actors but it was hard for me to believe they could pull roles in a western movie and be convincing - I'll say they proved me wrong. The greatest reasons for this being a great movie is the fact that while it still has Hollywood's glamour and gun slinging style that the west is always presented in it was 'Dawson' and Kutcher that gave the film a breath of 'real life' beyond the typical Hollywood edge. With both of best worlds, the guys didn't destroy the movie of western vibe, but they created it and more. I was convinced and truly felt like this was a realistic setting and that's something that I haven't really felt in a western since movies like 'Lonesome Dove' and 'Comanche Moon'. The movie thanks to Kutcher had some pretty funny parts adding a untraditional humor this genre of movie. Along with some laughter, insane action, sadness, and happiness the movie does a great job at hitting viewers emotions on every level. In my opinion, it was under rated, and is a good 5! (That could because I am biased for modern western movies) but I truly enjoyed it. I'd recommend this to anyone who enjoys a good western, especially, if you have any southern or Texas heritage as it will boost it all that much more for you.
Bobby Hobbs
Super Reviewer
Chosen 718
Super Reviewer
Texas Rangers Quotes
| | |
| --- | --- |
| George Durham: | We're Retreatin' We're Retreatin'!!! |
| George Durham: | We're Retreatin' We're Retreatin'! |