Iris
(2001)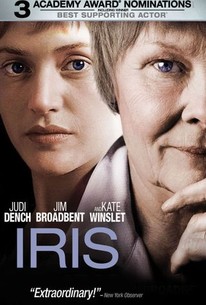 Movie Info
Based on a pair of memoirs by her husband John Bayley, this biographical portrait of writer Iris Murdoch stars both Judi Dench and Kate Winslet as the philosophical author at different stages of her life. When the young Iris (Winslet) meets fellow student Bayley (Hugh Bonneville) at Oxford, he's a naïve virgin easily flummoxed by her libertine spirit, arch personality, and obvious artistic talent. Decades later, little has changed as the couple (now played by Dench and Jim Broadbent) keeps house, with John doting on his more famous wife. When Iris begins experiencing forgetfulness and dementia, however, the ever-doltish but devoted John struggles with hopelessness and frustration to become her caretaker, as his wife's mind deteriorates from the ravages of Alzheimer's disease. Iris earned a slew of Supporting Actor awards for Broadbent, including recognition from the Hollywood Foreign Press Association, Los Angeles Film Critics Association, and National Board of Review. ~ Karl Williams, Rovi
News & Interviews for Iris
Audience Reviews for Iris
Whilst the performances and cast we very good and well suited to each other, I feel like this is supposed to make Iris look like a great person who had a brilliant life but what I saw was completely to the contrary. They showcased Iris to be a selfish, horrible and uncaring woman who only has a sense of humanity when she becomes ill. Her poor husband John who she treated terribly should have left her the moment he met her. Really didn't enjoy this film at all.
Sophie Burgess
Super Reviewer
Heart wrenching true story of the remarkable life of Iris Murdoch and her utterly devoted husband John Bayley. I found myself having flashbacks of The Notebook and of my own grandmother's spiraling decline into darkness. God damn Alzheimer's disease.
Randy Tippy
Super Reviewer
Each individual performance was influenced by the actual character, but personality leaked in undoubtedly. Judi Dench, so utterly amazingly, took on Alzheimer's without her usual grace, which not only surpirsed me, but made me respect her more. Winslet was her usual whimsical self, and Broadbent, the cooky man of the hour, put on the appearance of a man with little left in life. Beautiful, and scary, it would have been much better had they focused more on Iris' past, and less on her later years.
Spencer S.
Super Reviewer
Iris Quotes
There are no approved quotes yet for this movie.