Hidden Agenda
(2001)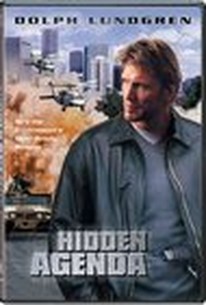 AUDIENCE SCORE
Critic Consensus: No consensus yet.
Movie Info
Former government agent Jason Price (Dolph Lundgren) is at odds with the FBI hierarchy. He suspects he can't trust anyone, particularly after an important witness is slain by a sniper while on the witness stand during a secret grand jury session. He takes it upon himself to track down the sniper, find out who was behind the order for the assassination, and then take them down. Little does Price know just how deeply into the Bureau the conspiracy goes. He learns the hard way -- as do those who choose to help him -- just how deadly his mission is. ~ Buzz McClain, Rovi
Critic Reviews for Hidden Agenda
There are no critic reviews yet for Hidden Agenda . Keep checking Rotten Tomatoes for updates!
Audience Reviews for Hidden Agenda
This was a surprisingly good film I must say. I didn't expect much and only got it out because of a rather nifty name and front cover, but then again how many Lorenzo Lamas films have had good names and covers? Lots, and how many have been crap? All! So after 90 minutes I was pretty happy. I like films like Spy Game and Enemy of the State and this film is similar. While not as good, it does do a better than most job of it and does so with a 5 million budget. I thought the script was pretty good; there is a sense of mystery running throughout the film and the way it is written is quite smart especially when you consider that most b-movie scriptwriters are probably the real life versions of Ernest or Kelly Bundy (arf arf!), but this film made a surprising and efficient thriller. The sense of mystery that meanders through the film is good, its like an episode of the X-files, you need to leave things in a sense of wonder before revealing all at the end, and this film succeeds where most of its type would fail. The cast are surprisingly good. Dolph Lundgren has rarely been as interesting. His character is imposing for reasons other than his muscles and large stature, he is intelligent and domineering and he runs a tight nit crew. The two ladies are good particularly the sexy foreign bird. As I said Lundgren is pretty good. It's a fairly simple role for him, which is good, while it also adds dimensions and he has an aura about him. Some of his lines are great and he delivers them with intensity and aplomb. Now to the action, well if you like martial arts then this will not let you down. There are some cracking fight sequences with some good use of freeze frames. The opening action scene is the best, its pulse pounding and exciting and ends after an impressive car chase down an airport runway. I did find that, like most economically challenged movies, that the shootouts were quite average, trying to hide the fact that the can't afford the same amount of squibs that John Woo would use for the emptying of a single clip, still there was only really two shootout bits and the second was much better. Also some great explosions, they looked cool and were well filmed. Even in the biggest films, explosions can be a let down, but not here, you can't go wrong with an explosion at night time in falling snow, it looks so cool. 4 stars. 1-11=13
Bruce Bruce
Super Reviewer
Hidden Agenda Quotes
There are no approved quotes yet for this movie.