Scooby-Doo
(2002)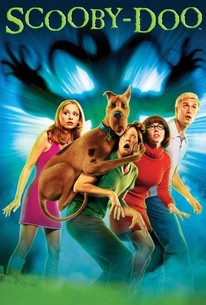 Movie Info
The long-running cartoon from William Hanna and Joseph Barbera that began life in 1969 as Scooby-Doo, Where Are You? becomes this live-action, tongue-in-cheek comedy-adventure featuring a computer-generated version of the easily frightened, mush-mouthed Great Dane. Freddie Prinze Jr. stars as Fred, the blonde, confident, ascot-sporting leader of Mystery Inc., a ghost-busting service that exposes phony supernatural phenomena as the work of shysters. Working with Fred are: his rich, beautiful girlfriend, Daphne (Sarah Michelle Gellar), who has a bad habit of getting kidnapped by villains; Velma (Linda Cardellini), the real brains of the group who pines secretly for Fred; cowardly slacker and dog's best friend Shaggy (Matthew Lillard); and the snack-gobbling pet pooch Scooby. However, after solving its latest case involving a beleaguered toy company owner (Pamela Anderson), the group fractures over Fred's habit of grabbing credit for everyone's hard work, despite the pleas of Shaggy and Scooby. Two years later, they are reunited at Spooky Island, a theme park and teen spring break destination that owner Emile Mondavarious (Rowan Atkinson) claims is plagued with ghosts. Suspicious as usual of any claims involving the paranormal, the Mystery Inc. clan is soon probing a scheme involving ancient rites, summoned spirits, and brainwashed college students, forcing the group members to resolve their differences and uncover the truth. Directed by Chris Columbus protégé Raja Gosnell, Scooby-Doo features the voice of Scott Innes as the title character. ~ Karl Williams, Rovi
Critic Reviews for Scooby-Doo
Audience Reviews for Scooby-Doo
I saw this on its theatrical release mainly out of morbid curiosity really and even back then it was pretty damn poor. About the only thing they got right in the film is the casting of Lillard for 'Shaggy' who seems to have been born for the role. Rowan Atkinson must have been bribed with tonnes of cash to star in this crap. The rest of the film is a terrible mess of horrendously bad CGI, unfunny attempts at humour that even the kids would roll their eyes at and a very shoddy look and feel all round with obvious sets and cheap costumes. This classic creation has been dragged into the modern age with various hideous modernisations including your obligatory rap/hip hop soundtrack that seems to come with most kids films these days for some reason. Alongside so many other god awful scenes it no longer bares much resemblance to the original cult creation. I dunno why they couldn't go with a more sensible approach and a slightly more genuine ghost story. The cartoons were silly yes but still reasonably coherent and actually quite spooky for kids, but spooky in an enjoyable way. This film is basically just trash...and since when was 'Scrappy' a bad guy?!. I mean seriously, could you possibly cast anyone more inappropriate for the role of 'Fred' than Freddie Prinze Jr?!!. Was he cast because his name is Fred too?? for Gods sake lets try and make an effort people!. As usual with so many film adaptations these days, stick with the original material. This whole venture just feels hokey and uncomfortable from the start, it could be an OK movie but drowned in vacuous pop culture references and needless cameos makes a mockery of the entire idea.
Phil Hubbs
Super Reviewer
½
Yeah, it's bad, and generally I hate kids movies, but I liked the cartoons growing up and Sarah Michelle makes a pretty good Daphne and Linda a good Valma, and of course, a younger Isla fisher here as Mary Jane. It's far from my favourite, but it is cute, and I do own a copy (sshhh).
Nicki Marie
Super Reviewer
Original movie in their adaptation of the cartoon. Great cast. The gang go to Spooky island to investigate strange goings on.
Candy Rose
Super Reviewer
Scooby-Doo Quotes
| | |
| --- | --- |
| Shaggy: | Hey, you guys, look, I know I'm just the dude that carries the bags. But it seems to me we all play an important part in this group. I mean, we're just like a big, delicious banana split. Fred, you're the big banana. Daphne, you're the pastrami and bubble gum flavored ice cream, and Velma, you're the sweet and sour mustard sauce that goes on top. |
| | |
| --- | --- |
| Scrappy Rex: | Gotcha! You look so much bigger on T.V! |
| Scrappy Rex: | Gotcha! You look so much bigger on TV! |
| | |
| --- | --- |
| Velma Dinkley: | We discovered the mastermind is Scrappy, who sadly was taken by evil. |
| Scrappy Rex: | (being taken to back of police truck) "so I got a little cranky!" |
| Scrappy Rex: | [being taken to back of police truck] So I got a little cranky! |
| Shaggy: | Jeez, Scrappy, no need to freak out and try killing all of humanity |
| Shaggy: | Jeez, Scrappy, no need to freak out and try killing all of humanity. |
| Scrappy Rex: | (in truck) "I would of gotten away with it! If it won't for you misable son's of a- (door closes) |